Our (Little) Garden
We are a participant in the Amazon Services LLC Associates Program, an affiliate advertising program designed to provide a means for us to earn fees by linking to Amazon.com and affiliated sites. We participate in other affiliate programs as well. For more details, please see our disclosure policy.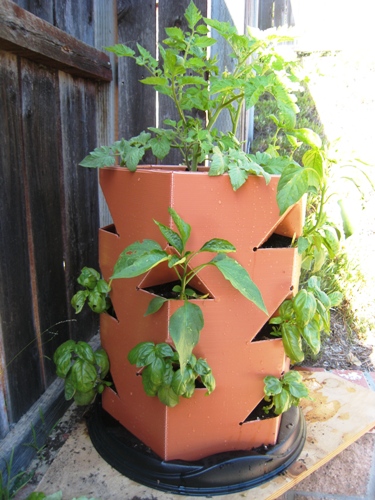 Many moons ago we lived in the country on two acres on the Central Coast of California. I won't get too nostalgic except to say that we had quite the large vegetable garden each summer. And, truth be told, while I don't miss gravel roads, well water, and septic tanks, I do miss that garden.
It's been quite a few years since my green thumb has faded. And one of the downsides to renting is not being able to renovate the backyard the way we would if we owned it. So when Burpee sent me a gift card to explore their catalog, I was on the hunt for something to get us back to a little homegrown goodness.
I chose this Bio Planter that holds up to 17 or 18 plants. It appears to be constructed of corrugated plastic. It's super lightweight, but also seems to hold up well to the elements. We filled it with basil and tomatoes and a couple pepper plants. And we even have an itty-bitty tomato growing. Isn't he cute?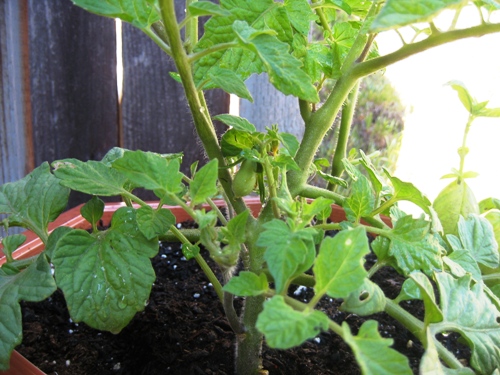 We also have something eating the basil, so I'm on a mission to figure that one out. Do slugs eat basil? Any green thumbs out there have suggestions for me?
It's been wonderful to go out in the afternoons with my little helper, FishBoy6. He's my self-appointed gardening assistant. And while we don't have two acres, we're making the most of blooming where we're planted.
How 'bout you, Mama?
How Does Your Garden Grow?
Disclosure: Burpee provided me with a gift card to explore their catalog. I was not compensated in any way for reviewing this product, nor was I required to do so. My opinions are my own. For more information, please see my disclosure policy.