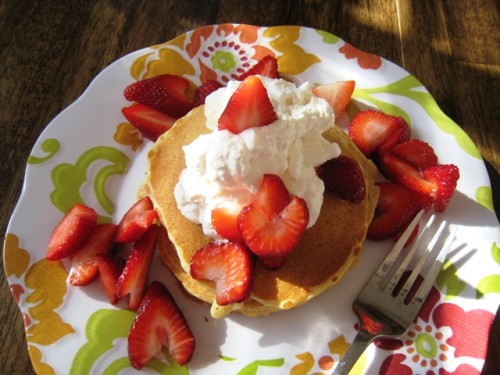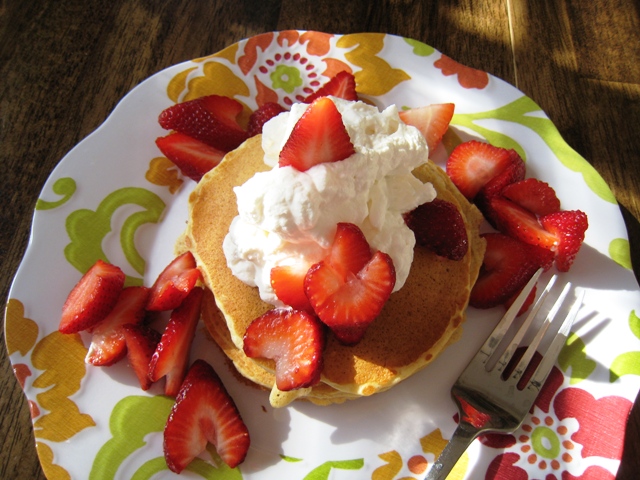 I mentioned earlier that we are getting great practice at quick fix dinners around here. And one that I can usually pull off in a pinch are pancakes. I've been testing a few different pancake recipes lately. I'm wondering how many mornings in a row my kids will willingly eat chocolate chip pancakes as I work to get the recipe "just perfect."
Next week is Mardi Gras, or Shrove Tuesday as it is also called. The church I grew up in always hosted a pancakes supper on Shrove Tuesday, but I had no idea why pancakes were associated with that day until a few years ago when I was researching Easter traditions for a magazine article.
Come to find out, in the middle ages, eggs and butter were foods to abstain from eating during Lent. So, on Mardi Gras, or Fat Tuesday, you'd use up your stores of rich fats. A good food to do that with are pancakes. Just picture those buttery, rich hot cakes.
Amen to that!
Not only are pancakes "tradition" at least once a year, but they are also very kid-friendly. I don't think I've ever met anyone — young or old — who didn't love pancakes.
Pancakes make a perfect breakfast, lunch, or dinner.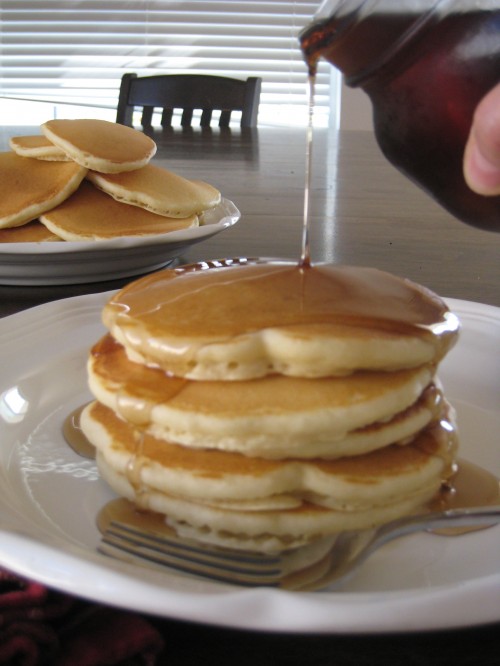 Here is a delicious round up of pancakes ideas, recipes, toppings, and more. Get flipping and enjoy a short stack with someone you love.
Serving Suggestions
Keys to a Successful Pancake Breakfast or Dinner
Host a PJ Pancake Breakfast Bash
Basic Pancake Recipes
Buckwheat, Cornmeal, and Whole Wheat Pancakes
Healthy Pancakes
Multi-Grain Pancakes with Blueberries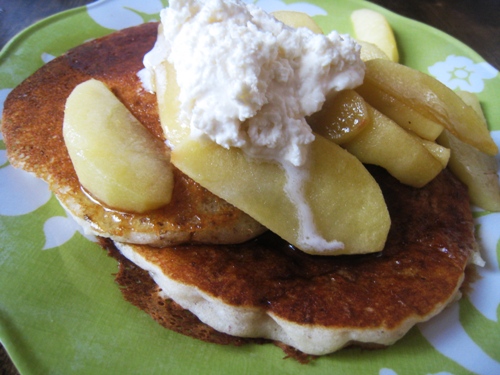 Fruity and Fancy Pancakes
Pancakes with Apples and Whipped Maple Butter
Baked Apple Gingerbread Pancakes
Gluten-Free Pancakes
Gluten-Free Overnight Pancakes
Topping It Off
5 Simple Homemade Pancake Syrups
Got a great pancake tradition or recipe?
We'd love to hear it! Share it in the comments.