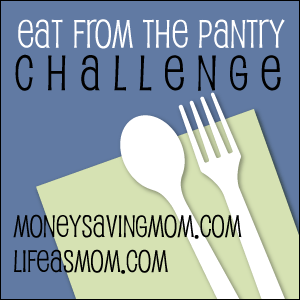 Last week Crystal offered folks a chance to share their plans for the Eat-from-the-Pantry Challenge. It's been so fun to see the turn out of links as well as those talking about their food adventures on Facebook and on Twitter. Little did we know what a popular activity this would prove to be. Wow!
The FishFam has officially been "eating from the pantry" for just a few days, but since I didn't do any separate shopping trip in the last days of December, I guess you could say we've been doing it for some time. Regardless, it's been quite successful, even with feeding another family!
The Paines have been here visiting these last few days and it has been a blast! Our family has seen things we never saw before, though we live in San Diego. And for each outing we were able to pack a picnic based on what we had in the house and avoid the high costs of eating out when you visit tourist attractions. I was so glad to have a huge stockpile of Capri Sun juices for the kids. That made their drinking choices so much easier, and no one clamored for the fancy (read: expensive) sippy cups at the zoo.
You can read the play-by-play of what we've eaten these first few days of January over at my food site, Good (& Cheap) Eats. So far so good — I guess I have a pretty stocked pantry. I've even been able to write a rough draft of our monthly meal plan that appears to be very workable. At least I hope so!
One surprise when Crystal and I inventoried my garage freezer was that I have three pans of Macaroni and Cheese! I know what we'll be eating for lunch in the next couple weeks. Should make for some easier homeschool days.
If you're just checking out The "Eat from the Pantry" Challenge, it's not too late to start! Never! Crystal will be sharing later this week how you can prepare for this type of meal planning.
So, how have you done? What were your successes? What were your challenges in the challenge? Did you create some great recipe using what you have? Share the link to your post that describes your last week or simply leave a comment. We're so excited to see how people can save some money this month by using what they have.