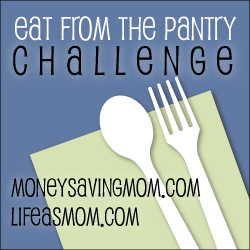 Today marks the end of the third week for some who are "eating from the pantry." To be honest, I wasn't quite sure how this would go for the FishFam. I knew Crystal could pull it off because she's way smarter than me. But, I had my doubts about myself. My kids eat a lot; my husband has a physically demanding job that requires good nutrition and energy to sustain him through the day; and we all love to eat. Those could have been potential road blocks to this challenge. But, I'm learning a lot through it all.
And hungry tummies are still being filled.
What I've learned so far:
1. Baking is not as time consuming as I tend to think. I have a great collection of bread and baked good recipes but I often put it off because it seems like it will take too much time. Since I'm not buying a lot of bread or baked goods during this challenge, it's forcing me to make them myself and it's turning out not to be that bad after all.
2. Using cash envelopes is the best way for me to keep track of my spending. Sometime last year I started using the debit card for grocery shopping. I kept a mental note of what I was spending, but it wasn't completely accurate. Switching back to all cash has shown us that those little trips add up really quickly.
3. We have an emergency fund in our kitchen. The challenge is showing me that if push came to shove and we didn't have cash on hand for our normal month's worth of groceries, we would probably be okay. My regular shopping has produced an excess that is feeding us quite well. Now it's just a matter of getting back to "regular shopping" in a wise way.
How are you doing on the Pantry Challenge? Share your triumphs and your fails. We're here to help each other and offer encouragement to keep moving forward. It's never too late to start making the most of what you have.