Pay for Christmas Morning with Swagbucks
We are a participant in the Amazon Services LLC Associates Program, an affiliate advertising program designed to provide a means for us to earn fees by linking to Amazon.com and affiliated sites. We participate in other affiliate programs as well. For more details, please see our disclosure policy.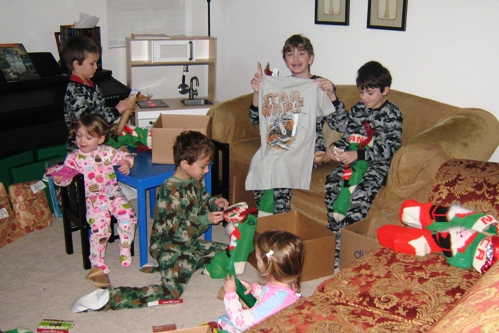 Christmas morning can be a fun, fun, FUN moment for a child. I have wonderful memories of those days.
Except, of course, when my sister sobbed uncontrollably for two hours when our baby brother got the only Cabbage Patch doll my parents could lay their hands on. That was a sad, sad day. (In their defense, it was a boy doll. And they had three girls. So, they gave it to their one boy. They had no idea that they would devastate her in that way.)
Anyway…. Christmas morning can be a fun time. What I've noticed is that it's almost more fun as a parent because I get to be in on the surprises and see my kids' faces burst into smiles when they open a gift that pleases them.
However, that Christmas morning experience can be costly. Just ask the parents who scoured the stores and ended up with a lone boy Cabbage Patch doll.
And it can cost more than a few tears, especially when you count the rising cost of commercial products.
 A few years ago we signed up for a Swagbucks account. Swagbucks is a search engine that rewards its members with points, or "swagbucks" that can be redeemed for a variety of prizes, including gift cards to iTunes, Amazon, and Starbucks.
I programmed it as the home page on each of our computers. The kids love the idea of "winning" something when they make a computer search, and over time we earn points that we typically cash in for Amazon gift cards.
One year, I saved the gift card balance for months and was able to pay for Christmas mornings with Swagbucks! Yes, really. We'd been saving for a camera, but decided that it was farther down on the priority list than Christmas presents for the kids. Amazon has such amazing prices at the holidays that we were able to stretch our Swagbucks earnings far enough to cover gifts for all six kids.
You can earn Swagbucks in other ways, too. Complete surveys, watch videos, or complete special offers. For instance, sign up with Netflix via Swagbucks and you earn 675 points. There are lots of options to choose from. So, if you were already planning to sign up for Netflix, it's a great way to maximize on the investment.
Swagbucks has been a great way for us to save money.