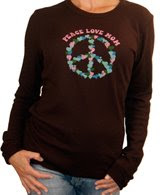 Thanks to all of you who entered my PeaceLoveMOM giveaway! It was certainly a popular one. And a fun one, too. You pointed out tshirts that I hadn't even noticed when I visited their site.
I'm going to have to go back, especially this week as the great ladies at PLM have graciously granted a consolation prize. There's only one winner this week, unfortunately. But, if you would still like to get a PLM product, you can use the coupon code LIFEASAMOM for Free Shipping for orders over 20.00 in the US. The code will be good through Saturday.
(Yes, I know it says, "life as a mom." It's a common mistake when people remember the name of this blog. Just like I was always called Jennifer instead of Jessica when I was growing up. We'll just go with it.)
Anyway, not to take away from the fact that somebody is getting a free tshirt! I plugged the stats in at random.org and here we are:
Random Integer Generator
Here are your random numbers:
57

Timestamp: 2009-01-19 05:49:11 UTC

That makes the winner Michelle!
Please shoot me an email which I can then forward to PLM. They will be contacting you about your prize.
Thanks for playing, everyone. Come back tomorrow and Tuesday for more great giveaways!