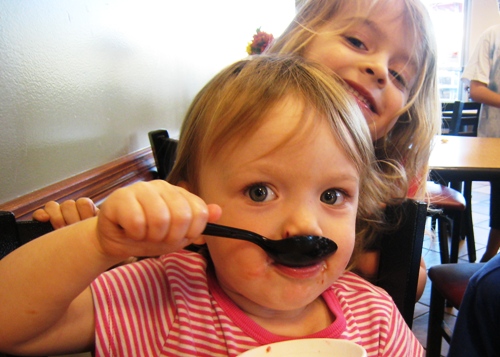 As you will remember, we are kinda-sorta big fans of Chick-Fil-A. In fact, we've narrowed our fast food enjoyment down to three basic establishments, and Chick-Fil-A is the chicken part of the Tri-fecta.
And I have a very standard menu plan when I go there: Chicken Strips Salad with Caesar Dressing — and a medium lemonade. If I'm feeling particularly indulgent, I get an order of waffle fries.
Yes, yes, I do.
While Chick-Fil-A is not the least expensive of fast food restaurants, I enjoy it AND they are super generous with their free food. It seems like once a month our local Chick-Fil-A has some special going on. And today, I get to be part of sharing the love!
This week, five LifeasMOM readers will each win two coupons for a free Peppermint Chocolate Chip Milkshake from Chick-Fil-A.
The holiday excitement continues with the seasonal Peppermint Chocolate Chip Milkshake, which is back by popular demand on Chick-fil-A menus nationwide.

As with the chain's year-round milkshake flavors, the Peppermint Chocolate Chip Milkshake is hand-spun with Chick-fil-A's popular "home-style" Icedream® and topped with light whipped cream and a maraschino cherry.

Milkshakes are offered in 14 oz. or 20 oz. cups and are priced from $2.55 and $2.95, respectively.
To Enter
Simply leave a comment, telling us YOUR favorite thing to order from Chick-Fil-A.
Giveaway will be open until Sunday, November 21st at 8 pm, PST. Winner will be chosen at random and notified via email. Please respond within 48 hours in order to claim your prize.
THIS GIVEAWAY IS NOW CLOSED. Congrats to the winners: momof4barkers@, cskura@, yatesfam98@, lindblomnest@, penningfamily4@
Disclosure: I received free coupons for the Peppermint Chocolate Chip Milkshake. I have not been compensated to publish positive comments. Please see my disclosure policy for more information.