Back in my younger years I had a certain vision of picnics. Romantic and flowery. Children dressed in white dresses and sailor suits. Birds singing. Music playing when we walked through a field, wind blowing through our hair. Delicious foods served on elegant china. You know, a Jane Austen picnic.
HELLO!
Woman, wake up and smell the bugspray, sunscreen, and lighter fluid!
No, that's not really what happens on my picnics. High winds, bugs, beating hot sunshine? Yeah, that's happened. Slicing a loaf of bread with a plastic knife? Yep, that, too. Meals eaten haphazardly with sandy-handed children reaching into the chip bag to add a little added crunch? Absolutely.
Could I be all grumpy like this little someone who wasn't getting her way?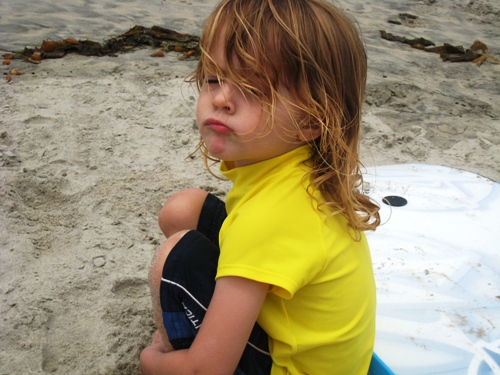 Sure, but, you know what? I still love picnics!
I've simply adjusted my expectations.
FishPapa had Monday off so we packed up the kids and a cooler and headed to the beach. The kids had really wanted to have breakfast on the beach. So we did. Was it elegant? No. Good? Yes.
Our menu:
Cooked Italian Sausages, sliced at HOME, with a sharp knife
Individual Juice Pouches
The FishKids were totally pleased. It wasn't fancy. But, we all enjoyed it, sitting together on a (very sandy) blanket on the beach. And not a single seagull flew away with the bag of food. Hallelujah!
A Perfect Picnic

1 can Happy Disposition
2 parts Go With the Flow
1 cup Good Food
Ready to go on a picnic? What do you take with you?
Share it on Ultimate Recipe Swap! Here's how to participate in:
1. Post your recipe on your blog. Please mention www.lifeasMOM.com in your post so that your readers know where all the other good recipes are hanging out. Then, come back here to add the link to your post to Mr. Linky below. (Find instructions for Mr. Linky here.) OR
2. If you don't have a blog, simply post your recipe or tell us about it in the comments section.
3. Above all, please stick to topic. Most weeks there is a theme; this week is Picnic Recipes!
Next week: Grab and Go recipes