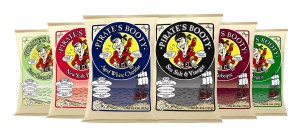 We discovered Pirate's Booty about ten years ago as a baby-friendly snack that the whole family enjoyed. Now, it's not designed for babies, but its crunchy texture was one that we all loved and one that a baby could easily eat. It was a great alternative to chips, pretzels, or popcorn that would require me to perform the Heimlich maneuver that I don't know how to do anyhow.
Suffice it to say, Pirate's Booty, with its great taste and healthier ingredients, became our go-to snack. Think about a cheese puff gone healthy. These puffs are baked, all-natural, and gluten-free. Very cool.
There is actually an entire line of Pirate Brand Snacks that I was not aware of. Where have I been? Here's what the Pirate told me:
Pirate's Booty is a deliciously baked all-natural snack made from puffed rice and corn. Pirate's Booty is only up to 130 calories per serving, is trans-fat and gluten free and comes in great subtle flavors like Aged White Cheddar, Veggie, Sour Cream & Onion, New York Pizza, Sea Salt & Vinegar and Barbeque.

Smart Puffs are all-natural corn puffs made with real Wisconsin cheddar that are baked to perfection. Smart Puffs are trans-fat and gluten free.

Original Tings are all-natural vegan crunchy corn sticks made from the finest milled American corn. Tings are trans-fat and gluten free.
Over the last year, there have been some great coupons that have enabled us to enjoy Pirate's Booty a little more often. But, this week, you don't need no stinkin' coupon. Just enter today's giveaway!
Two readers will each win a case (24 bags) of assorted Pirate Brand snacks. Talk about some great munchies for movie night or your upcoming Super Bowl Party!
Here are the three ways you can enter to win:
Leave a comment telling me your favorite snack.
Blog about or tweet (@fishmama) this giveaway and bring the link back here, leaving a second comment.
Subscribe to LifeasMOM in a reader or via email and leave a third comment, telling me you did so.
Giveaway will be open until Sunday night at 8 pm., PST. Winners to be chosen at random and announced next week. You must leave a valid email contact in your initial comment and respond to my email within 48 hours in order to claim your prize. US addresses only, thanks.
This giveaway is now closed.
I've got an all-star line-up of giveaways this week, so prepare to be tackled. Stay tuned!