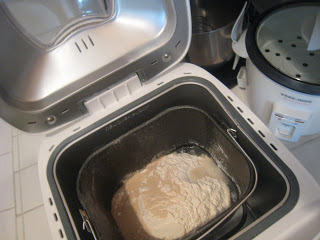 I've been experimenting with this dough recipe over the past few months. It seems to be working well for us. Depending on how well I work it, it can make up to six large, thin-crust pizzas. Often it turns out to be six medium to individual. If you really want large size pizzas, I'd say you'll get three regular crust pies out of this.
I'm not sure how many Calzones I can get out of it. That is an experiment for this week. We're making the dough today and will freeze it in individual balls in a tupperware-type container.
My bread machine does the mixing since I'm a total loser when it comes to making dough any other way.
Pizza or Calzone Dough
1 1/2 cups water
1/2 cup olive oil
4 1/2 cups bread flour (can substitute some whole wheat flour)
2 Tablespoons sugar
1 Tablespoon salt
1 Tablespoon yeast
Place ingredients in bread machine according to manufacturer's directions. Different makers dictate different order of ingredients. My machine says to add liquids first, then dry ingredients, then flour in a little well. I omit the little well part and it works out just fine.
Make sure to scrape down the sides while it's mixing. Add a little flour if too wet, a little water if too dry.
At the end of the dough cycle, remove from pan to lightly floured or oiled surface. Divide into six equal portions. Place in an oiled 9×13-inch pan. Cover with plastic wrap and refrigerate overnight. (The cold rising gives the dough great texture, nice and chewy.)