Plan a Staycation in YOUR Town
We are a participant in the Amazon Services LLC Associates Program, an affiliate advertising program designed to provide a means for us to earn fees by linking to Amazon.com and affiliated sites. We participate in other affiliate programs as well. For more details, please see our disclosure policy.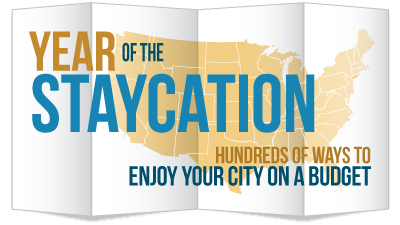 Yesterday I shared all sorts of great things to see and do in San Diego — on a budget. But, if you don't live here or haven't already planned a trip to "America's Finest City," you might be interested in planning a staycation somewhere else, like YOUR town.
Don't forget to read Amy's tips for planning a great staycation which apply to every locale. Then check out this doozy of a round-up, featuring cities all over the country, with a special thanks to The Happy Housewife and Springs Bargains for compiling it:
New England
Connecticut – Parenting Miracles
Boston, Massachusetts – ‎ Maven of Savin'
Manchester, New Hampshire – Common Sense with Money
Western Maine – Bubblegum and Lollipops
Mid-Atlantic
Erie, Pennsylvania – Growing Kids Ministry
Gettysburg, Pennsylvania – Somewhat Crunchy
Harrisburg, Pennsylvania – Family Balance Sheet
Buffalo/Niagara Falls, New York – Coupons, Deals and More
New Jersey – Oh! Diane
Midwest
Cedar Rapids, Iowa – Indoor Garden Musings
Mansfield, Ohio – Live the Adventure
Cincinnati, Ohio – Savings Lifestyle~Cincinnati
Mount Vernon, Ohio – Living Better One Day at a Time
Dayton, Ohio – Savings Lifestyle~Dayton
Grand Rapids, Michigan – Kitchen Stewardship
Metro Detroit, Michigan – "Cents"able Momma
Oakland County, Michigan – Bargain Shopper Mom
Warren, Michigan – Saving Dollars and Sense
Grand Forks, North Dakota – Frugal Front Porch
Indianapolis, Indiana – Bargain Briana
South Bend, Indiana – Excuse The Mess
Kansas City, Kansas/Missouri – Kansas City Mamas
St. Louis, Missouri – The Pickledpigsfeet
Branson, Missouri – Getting Freedom from Debt
Springfield, Missouri – I Think I Can
Rochester, Minnesota – Everyday Notions
York, Nebraska – Heavenly Homemakers
Omaha, Nebraska – Mom Endeavors
Madison, Wisconsin – Many Little Blessings
Oshkosh, Wisconsin – A Little Bit of This and That
Chicago, Illinois – Chicagoland Homeschool Network
Champaign, Illinois – Chambanamoms
Black Hills, South Dakota – Little House on the Prairie Living
South Central
Checotah, Oklahoma – Blessed With One Income
Tulsa, Oklahoma – Lynn's Kitchen Adventures
Gadsden, Alabama – Aint Mimi
Dallas, Texas – Funky Faith Girl
Dallas, Texas – Grocery Shop For FREE
East Dallas, Texas – Surviving The Stores
Fort Worth, Texas – Smockity Frocks
Austin, Texas – Stetted
Houston, Texas – Moms Travel Tales
McKinney, Texas – Wisdom Begun
East Texas – The Full Pantry
Murfreesboro, Tennessee – Life in a Barn
Nashville, Tennessee – The Country Chic Cottage
Mobile, Alabama – A Penny Saved is a Penny Earned
Birmingham, Alabama – iGoBOGO
Brunswick & the Golden Isles, Georgia – Teri Lynne Underwood
Alpharetta, Georgia – Cuponeando
Atlanta, Georgia – See Jamie Blog
Augusta, Georgia – Hyperactive Lu
Athens, Georgia and Mississippi – Tractors and Tire Swings
Little Rock, Arkansas – It's Real Life
South Atlantic
Ft. Bragg, North Carolina – Military Wives Saving
Charlotte, North Carolina – The Carolina Clipper
Charleston, South Carolina – The Tween & Me
Greensboro, North Carolina – Mrs. Happy Homemaker
Jacksonville, Florida – Saving The Family Money
Orlando, Florida – Orlando's Best Deals
Virginia Beach, Virginia – The Singley Fam Blog
Richmond, Virginia – Daily Dwelling
Hampton Roads, Virginia – A Home Made by Kiki
Charlottesville, Virginia – How to Have it All
Blackwater Falls State Park/Davis, West Virginia – Holy Spirit Led Homeschooling
Treasure Coast, Florida – The Cardamom's Pod
Saint Augustine, Florida – Jypsie Visions
Lake Norman, North Carolina – Stretching Pennies Saving Dollars
Washington, DC – The WiC Project
Baltimore, Maryland – The Happy Housewife
Brunswick & the Golden Isles, Georgia, Teri Lynne Underwood
Mountain
Tucson, Arizona – Saving with Pam
Phoenix, Arizona – Mom Endeavors
Albuquerque, New Mexico – The Chou Life
Kalispell, Montana – Our Family Adventures
Salt Lake City, Utah – Just the 2 of Us
Thermopolis, Wyoming – The McDonald Family
Denver, Colorado – Denver Bargains
Colorado Springs, Colorado – Colorado Springs Bargains
Pacific
San Diego, California – Life As Mom
Yosemite National Park, California -Handbook of Nature Study
Seattle, Washington – Queen Bee Coupons & Savings
Whidbey Island, Washington – Manning the Homefront
Olympia, Washington The Coupon Savant
Portland, Oregon – Frugal Living NW
Willamette Valley, Oregon – An Oregon Cottage
Frugal Vacation Tips
Vacation or Stay-cation: Eating without Busting the Budget – Eat at Home