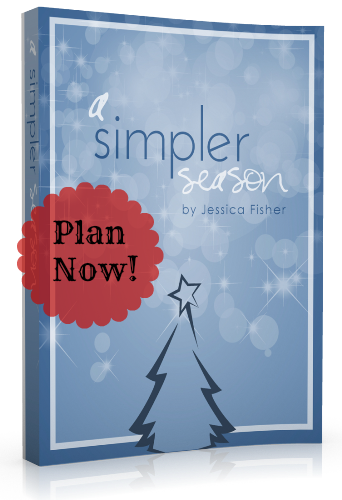 Just in case you were wondering, there are ….
10 days until Thanksgiving
37 days until Christmas
44 days until New Year's
That means that the next six weeks have the potential for great good — as well as great evil. No, you can't fool me. It's not all fun and games at your house at the holiday times. I know this, because it isn't at our house either.
Last year was incredibly difficult for me to get into the holiday spirit, yet it's one of my favorite times of year with all the yummy food, beautiful music, and sparkling lights. The hustle and bustle can be invigorating — or not, depending on how you've planned, how much money's in the bank, and how the family dynamics are shaking down.
But, we have a good chance at a sweet and simple season if we spend a little time thinking about our priorities, putting some plans in action, and adjusting our attitudes for what can be a great time of year.
That's what A Simpler Season is all about. I put together this ebook in the hopes of helping families (including my own) fill their holiday season with the experiences that are most important to them.
And I do mean, holiday. There is more than one thing to celebrate this season. I promise I'm not taking Jesus out of Christmas. The book includes activities, recipes, and ideas for the trifecta: Thanksgiving, Christmas, and New Year's. There's a lot of activity packed into those 5 to 6 weeks.
Plan now so that the important things happen, so that you can have a simpler season.
The book is currently marked down to $5, so now's the time to grab it. It's packed full of printables, games, recipes, and learning activities to do with your kids. We've done the work for you, so you don't have to.
The regular price of $9 returns on December 1st.