Renew your physical body by making plans to eat well. You will feel so much better if you do!

Today's assignment is to plan to eat well.
I'm not talking about making a meal plan for the week, though that certainly would help you out and make your week easier. I'm talking about having a longterm plan for your diet.
Would it be good for you to add more fresh vegetables to your diet? Do you tend to subsist on crackers and soda? Do you skip meals?
I'm the Queen of Taking My Health for Granted. When I was 16, I could put away candy bars, soda pop, and Big Macs like there was no tomorrow. And I did. I didn't gain too much weight, and my complexion was pretty good. I could afford to be irresponsible. Or so I thought.
At 42, every bite matters a little bit more than it once did. And I've had to work really hard to change my bad habits.
No matter your past, it's never too late — or too early — to improve your diet. Perhaps you might do a Whole 30 nutritional reset or a sugar fast. Or maybe you'll eat regular meals and add lots of veg to your diet. Maybe you just need to start drinking more water.
Whatever you need to do at this season in your life, make a plan to start it today. You don't have to do it perfectly. Just get started.
Make steps to eat well today.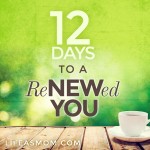 This post is part of a 12-part series, 12 Days to a Renewed You. You can read through the archives here.