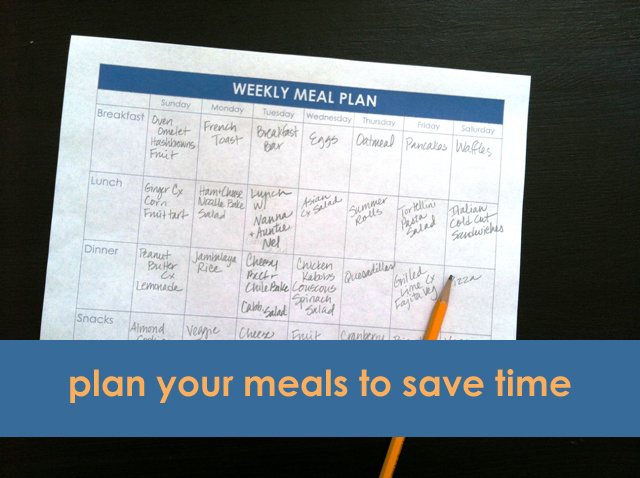 Do you know what your next meal will be? If you don't, now would be a good time to start thinking about it. That's really what meal planning is. Eventually you plan your meal — even if it means making the decision to drive through In-N-Out Burger.
It's a plan, even if you created it five minutes before eating.
Everyone plans meals, really, but not everyone plans them in advance. And it's the advance part that will save you time (and probably money and mental energy, too.)
When we fail to plan a meal, or we do it late in the game, we waste time. We stare into the cupboards, we open the fridge repeatedly, somehow thinking that its contents will change with each opening and closing. We hem and haw, all the while tummies are rumbling.
One of your best ways to save time in the kitchen is to plan your meals in advance. At the minimum, I think you should know your meal plan the night before, but a week's worth of meal plans will save you more time in helping you know how to organize your kitchen and what to buy at the store.
Planning your meals will save time in the kitchen.
If you have a plan you will:
be less likely to stand in your kitchen with nothing to do.
spend less time running to the store for last minute items.
save money because you'll eat at home more often.
not spend a ton of time trying to figure out dinner and preparing it.
eat dinner at a reasonable hour.
If you're not sure how to start, consider downloading one of the 25 FREE printable meal plans that are available here on Life as MOM. There's even a printable plan for school lunches. If you want to focus on using your own recipes, then read through my Meal Planning 101 series.
It will set you on the road to becoming a Meal Planning Ninja. True story.
This post is part of the Kitchen Time Savers series. You can follow along this month as we explore lots of ways to make more efficient use of our time in the kitchen.

Don't want to miss a post in this series? Subscribe to 31 Days of Kitchen Time Savers here. Get updates via email here.