"Planning" for the Last Minute Will Keep a Smile on Your Face
We are a participant in the Amazon Services LLC Associates Program, an affiliate advertising program designed to provide a means for us to earn fees by linking to Amazon.com and affiliated sites. We participate in other affiliate programs as well. For more details, please see our disclosure policy.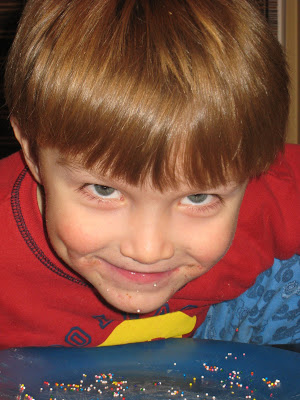 I love the Boy Scout motto, Be Prepared. It really should be the MOM motto. If you're prepared, there's nothing you can't tackle. You don't need to know what to be prepared for. Experience has already shown you that the unlikely or the unwanted will — and does — happen. Kids get sick, dogs eat homework, shoes get lost, and Christmas trees do fall over in the middle of the night.
Ask me how I know.
The holidays are rife with unexpected calamities adventures. Yet a few minutes of planning now could help you avoid disaster or embarrassment a few days or weeks down the line. So let's reflect a moment.
What do you DO?
What do you do when you need a last minute gift or potluck contribution or when guests drop in unannounced?
You could:
panic and hide in your room until January 2.
send your husband out to the store and pay a high price for whatever it is you think you need plus whatever he thinks looks cool while he's there.
breathe a sigh of relief because you already have a backup plan.
I choose Door #3, Bob.
Expect the Unexpected and Have a Plan
The following are just a handful of possible scenarios that may come your way in the next month and what you can do not to be blindsided if they happen.
Gifts
Inevitably it slips your mind to add a special someone to your list. Or perhaps your spouse or child remembers at the last minute a gift exchange at work or school. Some simple and inexpensive backup gifts and a few gift bags in the cupboard will help you avert disaster, embarrassment, or a late-night trip to the grocery store trolling for some overpriced trinket mascarading as a gift. If your back-ups are things that you will use anyways or be able to gift to family and friends later, so much the better.
Put together several muffin kits.
Pick up $5 or $10 gift cards to Panera, Starbucks, or other fun places.
bottles of sparkling waters and specialty sodas
a collection of teas, gourmet coffees, and cocoa mixes
Drop-In Guests
Keep a stash of easy to prepare appetizers, beverages, and desserts in your cupboard. A supply of holiday paper goods is a fun touch as well. Food items don't need to be elaborate. A selection of cheeses, apples, and gourmet crackers can make an elegant snack while a bundt cake (made from a mix) becomes a simple, yet nice dessert. And don't forget to do a quick 15-minute blitz!
Potlucks
Believe it or not, church suppers and friends' Christmas parties can fall under the radar and you may find yourself without a dish to contribute. Keep ingredients for easy to make meals on hand this holiday season. And stash some cookie dough in the freezer. Whether it's a quick supper at home or taking a dish to a potluck, don't sweat it. Be prepared.
Overnighters
Going to visit friends and family, even on a daytrip, can sometimes stretch into evening. Set yourself up for an impromptu overnighter by packing a bag with change of clothes and spare toothbrushes and keeping it in the family vehicle. Then, in the event that you are too tired to drive home, you won't be without a few comforts. Likewise, be prepared for your guests who might need to crash at your place. Collect your supply of extra blankets and pillows and store them in the linen cupboard or closet.
Your holiday may go exactly according to plan this season. Or not. With just a little planning, you can avert a harried afternoon or evening or even avert an embarrassingly awkward moment.
Expect the unexpected — especially at the holidays.
What's been your experience?
Have you found yourself scrambling for something during this busy season? Share your woes and successes with us!