Planning a Freezer Cooking Day
We are a participant in the Amazon Services LLC Associates Program, an affiliate advertising program designed to provide a means for us to earn fees by linking to Amazon.com and affiliated sites. We participate in other affiliate programs as well. For more details, please see our disclosure policy.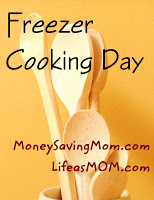 The key to success when "freezer cooking" is planning. Sure, you can just pull things out of the fridge and pantry and start cooking. But, the point of an "all-day cooking bash" is to economize on time, ingredients, and energy. So, a plan is key. You'll save motions and that's important. For instance, if you're going to make several recipes that contain grated cheese, then shred it all at one time. Chop all your onions, brown all the meat, cook all the chicken.
There are plenty of books out there that provide recipes and plans. But, what about if you want to use your own recipes? How do you pull it off without someone telling you what to do? This post is a basic primer to how to plan a freezer cooking day using your own recipes. It's my thought process that I go through in getting a game plan together for freezer cooking day.
Think Through the Entire Process
Awhile ago I created a worksheet to help me plan my freezer cooking daze days. Feel free to print off a copy if it helps you. I spent some time going through it this week so I had an idea of what I'd gotten myself into. I walked through each recipe and jotted down common ingredients and how they would need to be prepped. I thought through the entire process and wrote every step down. Maybe you don't need this great detail, but I do, especially with young children in the vicinity.
In my plan for this week, notice that I put the perishable tasks at the beginning. In this way, if I run out of steam or a kid gets his arm caught in a microwave and has to be rushed to the ER, I won't be fretting about 10 pounds of chicken going bad in the fridge.
At least if the accidents happen closer to the end of the day….
Looking at my plan, I'm wondering if I've been a little overly ambitious. Ya think? Only time will tell. Thankfully, I've got two days, right?
My Cooking Plan
Chop: onions, chuck roast
Slice: chicken, apples
Grate: cheese
Cook: pinto beans
Order of Meal Assembly:
1. Soak beans overnight.
2. In morning, rinse beans and get cooking in crockpot.
3. Start foccaccia dough.
4. Slice chicken for different recipes
5. Make chicken marinades.
6. Combine chicken and marinades in bags.
7. Set foccaccia dough to rise in pans.
8. Start pizza dough.
9. Assemble cheesewiches, wrap and freeze.
10. Prepare pie dough.
11. Peel apples.
12. Prepare applesauce in crockpot.
13. Assemble slab apple pies.
14. Form pizza dough balls and freeze.
15. Cube chuck roast.
16. When beans are done, cool and package. Use that crockpot for shredded beef.
17. Start Touchdown Chili.
18. Prepare marshmallows – allow to set overnight.
19. Prepare mixes assembly line fashion.
20. Prepare Indian Shuck Bread.
21. Prepare Chocolate Chip Cookies
Wish me luck. I'm going in! I'll be live tweeting the process and updating on Facebook throughout the day. So you're sure to catch some funny stories.