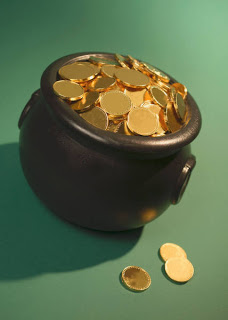 One of the fun traditions surrounding St. Patrick's Day is the idea of finding a leprechaun and his pot of gold at the end of the rainbow. While the reality of such a treasure finds itself only in myth and legend, today you do have a special money saving opportunity that could be worth a small fortune in itself.
Money Saving Mom has joined forces with the ladies of Living On a Dime to present a pot full of savings with their latest e-resource sale.
Get your grocery spending under control with the Savin' O The Green grocery savings e-book special, a set of 17 e-books to help you save at the grocery store and make your life easier! Along with six easy audio lessons, these e-books show you how to save money in the kitchen, save with or without using coupons, put together delicious and easy dinners and much more!
As I've mentioned before, I have gained so much personally and financially from following Crystal's wisdom. In fact, we cut our grocery expenses by $2400 in the last 12 months, due in part to Money Saving Mom. I know that you can save big bucks, too.
This offer includes a special deeply discounted price only good until midnight March 23, so go get it now!
Learn more here.
This limited time special includes the following resources:
Supermarket Savings 101, eCourse with audio downloads
Grocery Shopping On A Budget, eCourse
Money Saving Meats, e-book
Saving On Cleaning Supplies, e-book
Eating Healthy On A Budget, e-booklet
Is Eating Out Eating You Up?, e-book
224 Meals In A Hurry, e-book
Grocery Savings, e-book
Menus That Make Cents, e-book
Plan Ahead Leftovers, e-book
Quick Dinners, e-book
Menu Planning Made Easy
Simply Centsible Breakfasts
Simply Centsible Suppers
Kids Recipes
Menus On A Dime
470 Crockpot Recipes
For details on how to purchase an instant download, go here.