Power Out!
We are a participant in the Amazon Services LLC Associates Program, an affiliate advertising program designed to provide a means for us to earn fees by linking to Amazon.com and affiliated sites. We participate in other affiliate programs as well. For more details, please see our disclosure policy.
Typically when I use the phrase, power out, I'm referring to some degree of productivity. As in, I'm going to power out on this laundry. Translation = I'm going to focus on the laundry until it's done.
However, last week an experience unique to those in the very southwest of the United States gave new meaning to those words. We experienced a very widespread and unexpected power outage that affected sections of Arizona, Mexico, and Southern California. It was a trip, to say the least.
I was with one boy on "a date" at Target; hubs had another boy on a Father-son trip to the library; the rest were at home under the watchful eye of their big brother.
Emergency?
Target's power went out and I thought it was a fluke thing. My cell phone was dying, but I answered when hubs called. The power was out at the library, too. Hmmm…. I got on the freeway, wondering if something bigger had happened. Thoughts of 9-11, earthquakes, and being unprepared rushed through my mind.
It took me an hour to drive ten miles. Apparently not all my fellow San Diegans read their driver's ed handbook as assiduously as I did in high school. With traffic lights out, folks didn't do so great getting through intersections. Lots of gridlock.
Lots of sirens blaring in the distance. And me with a dead cell phone and kids home alone. I had a little panic attack, particularly so, as the radio station I randomly picked turns out to be an alarmist type station, and they were hyping things up. major. big. time. Talk of explosions, terrorism, navy maneuvers off the coast. Yes, thanks, that helps my commute home. I rarely listen to the radio, so I had no clue I had latched onto some hyper folk.
FishBoy7 and I got home to find the others all safe and happy. It took hubs another hour to get home after me.
We were all home together. It was not a national emergency nor a natural disaster. And we had water and gas. While we had been told by police agencies not to use our phones (cell or landlines), we could use texts to communicate with the outside world. Funny how that happens. I would never before have considered texting a valuable resource.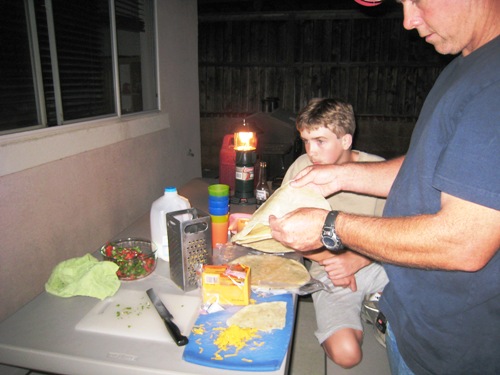 We had no power, but we had a lot.
We had running water and a hand water filter.
We had gas for the water heater and the stove as well as propane for the barbecue.
We had a neighbor with a generator so Thursday night football was covered. (Yes, really.)
We had candles and a few flashlights. (Time to stock up on batteries!)
We had a camping lantern and a picnic table in the backyard.
We had some delicious BBQ potato chips in the pantry for the nervous mama to munch on. (Yes, I ate half the bag.)
We had lots to choose from in the fridge — grilled quesadillas, fresh salsa, pineapple juice, and chocolate milk.
We had no TV and little computer time. (I confess to turning on Dora on my laptop to buy me a little dinner prep time.)
We had some funky headlamps that the kids loved to wear.
I had renewed resolve to get our emergency act together.
We made connections of a non-electrical kind.

That night instead of scattering to different areas of the house, we convened in the family room/kitchen where I had gathered the few decorative candles we own. It was a fun mood! We lounged on couches, chairs, and floor, enjoying the cool breeze coming in through the open windows.
And we played 20 Questions – Movies. We laughed and played a group game. We've not done that in a long time. We've relied too much on our own little entertainments. Even though we try to limit our TV and computer time, we still tend to scatter in the evenings to books or TV or games.
That night we didn't scatter.
The dark was exciting, particularly since there was no danger present. We were safe — and we expected power to return in the morning, which it did.
But that night was sweet. By total random blessing from God, I found several packages of light sticks in a drawer — in the dark! We had instant night lights for each bathroom.
And each FishChick went to sleep with a fluorescent wand in her hand, blissful.
In fact, the next morning the girls woke while it wasn't yet light outside. FishChick4 started sobbing as soon as she came out her door. "I want a dark house," she wailed.
The boys agreed that it had been a fun night. While I lamented my lack of "preparation," hubs reassured me that there really hadn't been anything we needed. Except of course marshmallows to toast for s'mores.
So, this week I'm buying more batteries, light sticks, and marshmallows. And we might just stage another night to power out.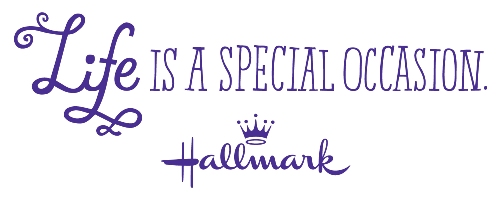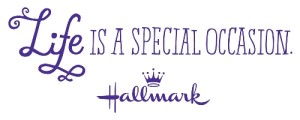 Disclosure: I'm partnering with Hallmark to bring you ideas for celebrating life, the ultimate special occasion. I've been compensated for my time spent writing. However, my opinions, jokes, family photos, little extras, and funny quirks are all my own. You can sign up to receive regular emails from Hallmark.