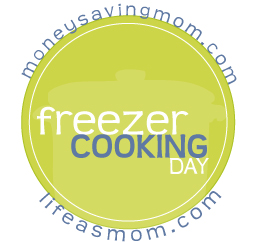 The other day I emptied my freezer and took stock. Yes, I was a little lax in keeping up on my freezer inventory sheet this past month, so I wasn't completely sure what all was there. Now I know what we have and what we need. Lo and behold, there are 20 meals already to go for this tail end of March and into April. I like this alternating "cook-like-a-crazy-woman-one-month" and then"breeze-through-the-next-month" kind of freezer cooking. So, I think May is my turn to be crazy 'cause this go-round I'm going to take it easy and work on breakfasts, lunches, and a few side dishes.
Feeding eight people three times a day is still a fair amount of work, so I guess "breezing through" might be a little exaggeration. But, at least I won't have to shell out a lot of cash on main dishes.
Starting on Wednesday, March 31 and continuing on through Friday, April 2, my friend Crystal from Money Saving Mom and I will be sharing our latest freezer cooking adventures. Feel free to cook along with us or just wield your spoon vicariously through us. We've both found that making this a regular practice helps us save time, money, and headaches, not to mention a few pounds in avoiding fast food on crazy nights.
Freezer cooking is a wonderful way for you to have convenience items on hand that fit your budget as well as your tastes. If you're new to freezer cooking and would like to learn about it, I have a little light reading for you to do.
As for me, I'll be sharing my cooking plan early next week as well as some Holiday Meal tips and how you can even do some pre-prep for the feasts you may have in the coming weeks.
Are you "freezer cooking" yet? Why or why not?