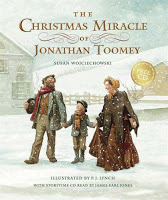 Long, long ago, in a time when I only had one child, I visited a friend's home at Christmastime and was amazed at her collection of children's Christmas picture books. Though I had always been a voracious reader and loved buying books for our son, I had never thought of creating a holiday collection. What an inspiration!
Whitney kept her books with her holiday decorations and brought them out at Christmas time. The festive, colorful covers added to the decor of her living room, but also added to her children's enjoyment of the season.
That year we started a collection and have built it over the years. Some of our favorites include:
The Christmas Miracle of Jonathan Toomey
The Tale of Three Trees
How the Grinch Stole Christmas
(For more Christmas book ideas, go here.)
I keep them in a basket in the living room so that whenever we sit down to "be cozy," we've got great reads right at our fingertips.
So keep your eyes peeled for great books. Chances are you might find some at the next yard sale, used book store, or thrift shop. Thinking ahead will enhance your experience come December.
What's your favorite Christmas book?