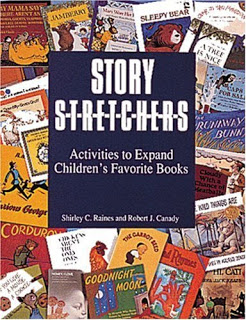 Since my mother is a college professor, a specialist in Early Childhood Education, a former kindergarten teacher, and a Child Psychology major, you can bet that my growing up years were filled with all sorts of "developmentally appropriate" activities. (And yet, I still turned out kinda wierd. Anyway….)
One of the great things about having this kind of mom is that my kids have this kind of Nanna! During her visits we are blessed with all sorts of fun and games and "developmentally appropriate" activities. She first introduced us to
Pete's a Pizza
, tearing up pieces of construction paper for the "toppings." My kids have made up their own safety rules on paper stars, mimicking some of the graphics in
Officer Buckle and Gloria
, one of our favorite books. And she has no fear tackling playdough or fingerpaint — and she usually doesn't end up
with a paint-covered table, or floor, or baby
.
One of the books that she recommends and has given me is called
Story Stretchers
. Written by Shirley Raines and Robert Canady, it is filled with activities to "expand" on children's books, kind of like some of the activities I've described above. For instance, you could read
A Baby Sister for Frances
(love that Frances!) with your kiddos and then try one of the suggested activities: chalk drawings of happy and sad faces, baking a chocolate cake like Frances' mom does, reenacting the story with story-based props and dress-up, and making up melodies and rhythms to some of Frances' impromtu songs. (Gotta love Frances' creativity!)
While the book's audience is clearly preschool teachers, it works just fine for moms. You are, afterall, your child's first and most important teacher. Homeschooling families will enjoy the inspiration and ideas for discussing and having fun with children's literature.