Pretend
We are a participant in the Amazon Services LLC Associates Program, an affiliate advertising program designed to provide a means for us to earn fees by linking to Amazon.com and affiliated sites. We participate in other affiliate programs as well. For more details, please see our disclosure policy.

Back in August, the FishBoys and FishPapa went to see the Spiderman movie. It had almost as big an impact as The Avengers did. I guess I should say moreso, since I have two Spideys in the family. One even sleeps in his super suit!
Shortly after seeing the film, FishBoy8 asked if we could go look at Spiderman costumes. On a coffee date one night, he and I cruised Walmart. I told him we could get him one.
He was absolutely delirious with joy!
It was so sweet to see. What was even sweeter was that he thought he was paying for it. I thought I was paying for it. We went halves. And he just about burst his buttons throughout the rest of our shopping trip.
Afterward we went to pick up Big Brother from Hockey practice. We were waiting in the car and my little man asked if he could try on the mask. When I said he could try on the whole thing, it was like one big joy after another.
It was hilarious to see him sneak into the hockey rink, dressed as Spiderman, and scare his big brother. It was even more hilarious to watch the hockey coach feign fear and surprise.
Oh my! Was my sweet boy just ready to fly over the moon.
Imaginative play is great for kids. It's even moreso when the adults around them enter into that play and participate. It's a way for us to be kids again and to remember what was once so very important.
Pretending is a great way to stop and smell the roses.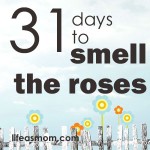 The days are long, but the years are short. I don't want to miss them! For more short and sweet ideas on how to stop and smell the roses, to enjoy the little things in life, check out my 31 Days to Smell the Roses series.
Don't miss a post in this series. Subscribe to 31 Days to Smell the Roses by RSS or email.