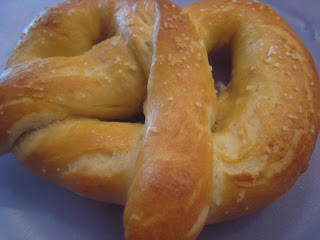 The boys and I had a great time making these for breakfast a few weeks ago. I made the dough in my bread machine very early in the morning. It took about 1 1/2 hours until the dough was ready to be formed. Once they were baked, we brushed them with melted butter and sprinkled them with cinnamon sugar. Yum!
1/2 cup water
1 cup milk
1 Tablespoon brown sugar
1 packet dry yeast
4 cups bread flour
1 1/4 teaspoons salt
8 cups water
4 Tablespoons baking soda
Egg wash: 1 egg white, beaten with 1 Tablespoon water
About 2 Tablespoons coarse salt
Place water, milk, brown sugar, yeast, flour and salt in bread pan in the order recommended by the machine manufacturer. Set machine for dough cycle and start the machine.
Line two baking sheets with parchment or silicone baking mats. Preheat oven to 450 degrees.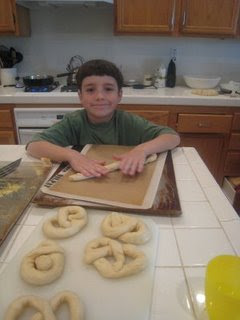 On a lightly oiled work surface, divide dough into 12 equal pieces. With your palms, roll each piece into a long rope, about 20 inches. Shape into pretzel shape by curving each end toward the center and overlapping them. Secure each end by pressing firmly.
Bring water to a boil in a large saucepan or roasting pan. Stir in baking soda. Place each pretzel, one at a time, in boiling water for about 30 seconds. Remove with a large flat spatula and place on baking sheet. Brush each one with egg wash and sprinkle with coarse salt. Bake for 12-14 minutes or until golden brown.