Get my protein style meal plan today! It's only available for a few days, and I don't want you to miss it! It's part of the Ultimate Healthy Living Bundle.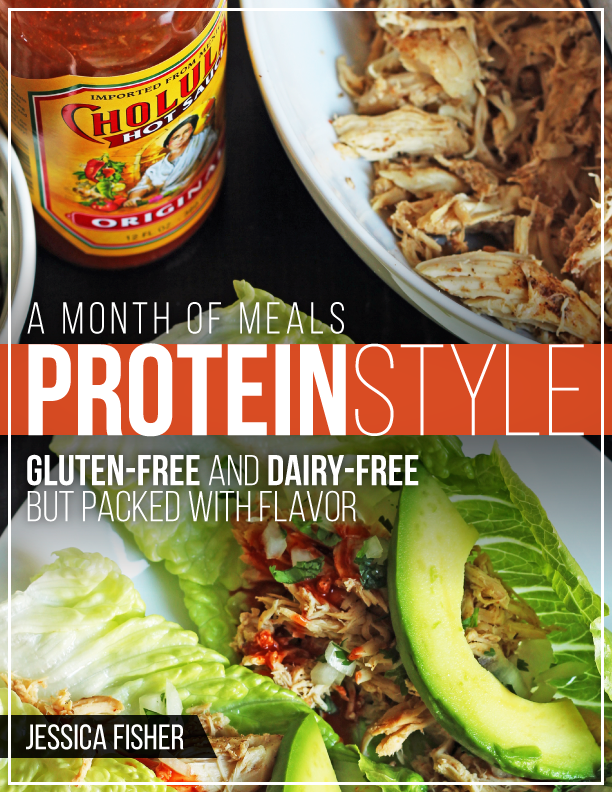 It's back! So many people have asked that I bring back the protein style meal plan that I released last January, that I had to do something. So, I am bringing the meal plan back for only six days, as part of the Ultimate Healthy Living Bundle.
I developed this meal plan to help my readers and family members who were doing a Whole 30. It can be so challenging to try out a new way of eating when you're not sure where to start. I did all the leg work, so that it could be easy. Just shop and cook; the planning's all done for you!
What's in the protein style meal plan?
Designed to help you eat better, focus on the veg and lean protein, and take a little break from all the heavy stuff, this month-long, protein style meal plan provides:
4 weeks of menus that are easy enough for weeknights and plenty healthy
4 weekly grocery lists
a monthly grocery list to help you make good use of sales
suggestions for homemade condiments and sauces
prep tips to make it all come together easily
The protein style meal plan is great for anyone eating gluten-free, dairy-free, paleo, or whole 30. Or just wants to focus on lots of veggies and lean protein.
A Month of Meals: Protein Style is ONLY available as part of the Ultimate Healthy Living Bundle, which was released today. The bundle will be on sale through the weekend; on Monday night, the promotion disappears.
What's in the bundle?
You sort of need to see it to believe it, but the package includes 83 digital products and it's worth over $2,400!
For the cost of a small bag of groceries, you'll get a complete healthy living library to help you:
prepare whole & delicious real food
get the toxins out of your house for good
understand and use natural remedies
breathe new life into your exercise habits
learn about important women's health issues
raise exceptionally healthy kids in an unhealthy world
plus learn about gardening & homesteading, meal planning, weight loss and so much more!
Plus, it comes with over $250 worth of bonus offers including:
1. Bloom Naturals – $15 gift certificate toward any product ($15 value)
2. Perfect Supplements – $15 gift certificate toward any Perfect Brand product ($15 value)
3. TriLight Health – $15 off select TriLight products ($15 value)
4. MadeOn Skin Care – FREE BeeCool Muscle Balm Stick and Natural Lip Balm Combo (value $15.25)
5. The Maca Team – FREE Organic Gelatinized Yellow Maca Powder, 8 oz. ($15.44 value)
6. Primal Life Organics – FREE 1-ounce jar of Dirty Mouth Toothpowder ($15.97 value)
7. Get Kombucha – FREE 1-month supply (15 ml) of Kombucha Pro: Liquid Probiotics (value $29.99) AND/OR a FREE 1-ounce bag of 8. Get Kombucha's Custom Organic Kombucha Tea Blend (value $15.99)
9. Orglamix – FREE Mineral Eye Shadow Trio ($18 value)
10. Experience Life – 4 FREE digital guides (value $29.99)
11. Grove Co. – FREE Mrs. Meyer's 64 Load Laundry Detergent, Mrs. Meyer's Fabric Softener, 60 Day VIP Trial, and FREE shipping with a $20 minimum purchase for new customers ($32.66 value); FREE 1-year VIP Membership ($39.95 value) for existing customers
12. Meal Garden – 6 months of Meal Garden FREE (value $35.70)
Besides being so incredibly helpful and inspiring, one of the things I like best about the bundle is the price. By offering the bundle for a short time only, they're able to give you access to over $2,400 worth of high-quality eBooks, eCourses and printables for a whopping 98% off!
You get my protein style meal plan PLUS a huge variety of other healthy living resources. Boo-yah!

EXTRA BONUS: For those who purchase the bundle through my link, I'm also throwing in one free ebook from my estore.

Fill out this form after you've made your purchase. I'll be sending out coupon codes after 9/27.