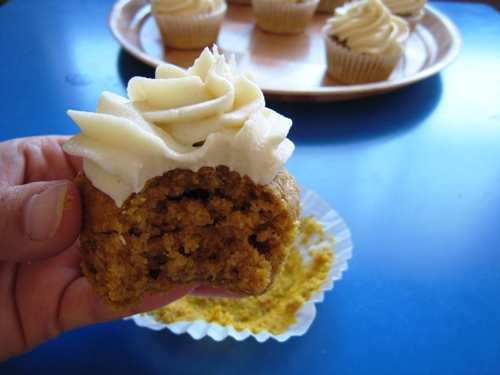 After last Christmas I scored major big time on the post-holiday clearance sales. Organic canned pumpkin for 50 cents a can? I'm all over that. As such, I've had no pumpkin shortage here. We've been able to enjoy it whenever we want in all kinds of pumpkin baked goods.
I've had a great time experimenting. Recently, I wanted to do some baking and found myself with only one egg. A few tweaks to a number of different recipes and I came up with this recipe for Pumpkin Cupcakes. The recipe only makes 12, so you won't have too many.
As if that were a problem.
These pumpkin cupcakes are super simple to pull together — from scratch — and just may disappear before you get them frosted. But, the cream cheese frosting takes them over the top!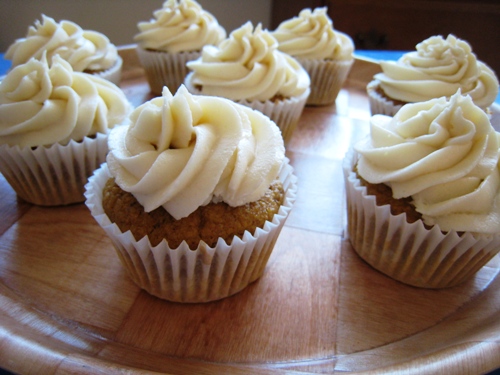 Recipe: Pumpkin Cupcakes with Cream Cheese Frosting
Ingredients
1/4 cup butter (1/2 stick), softened
1/2 cup sugar
1 egg
3/4 cup pumpkin puree
1 teaspoon vanilla extract
1 1/2 cups unbleached all-purpose flour
2 teaspoons baking powder
1/2 teaspoon ground cinnamon
1/4 teaspoon ground ginger
1/4 teaspoon ground nutmeg
1/4 teaspoon salt
1/8 teaspoon ground cloves
1/2 cup milk
Frosting:
1/4 cup butter (1/2 stick), softened
8 ounces cream cheese, softened
1 teaspoon vanilla
1 cup powdered sugar
Instructions
Preheat the oven to 350°. Line a 12-cup cupcake pan with paper liners.
In a large mixing bowl cream the butter and sugar until light and fluffy. Beat in the egg. Add the pumpkin puree and vanilla extract.
In another mixing bowl whisk together the flour, baking powder, spices, and salt.
Add the dry ingredients to the wet ingredients, alternating with the addition of the milk. Stir to combine.
Spoon the batter into the prepared baking pan, about 1/4 cup of batter per cup.
Bake for 20 to 25 minutes or until a tester comes out with a few crumbs attached. Cool on a rack.
To prepare the frosting, beat the butter until light and fluffy. Add the cream cheese and continue to beat until fluffy. Add the vanilla and powdered sugar and beat until well combined.
Frost the cooled cupcakes with the frosting. Chill until ready to serve
Preparation time: 20 minute(s)
Cooking time: 25 minute(s)
Number of servings (yield): 12

Pumpkins aren't the only good thing that Fall brings. Check out these great posts from my Eat Well, Spend Less friends. Each of these great bloggers brings you a great idea to make the most of seasonal fall foods.