Q&A: Library Day, Boys, and Family Culture
We are a participant in the Amazon Services LLC Associates Program, an affiliate advertising program designed to provide a means for us to earn fees by linking to Amazon.com and affiliated sites. We participate in other affiliate programs as well. For more details, please see our disclosure policy.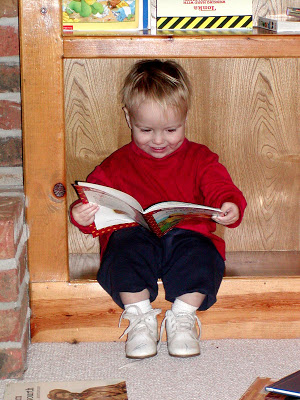 With Amy's permission, I'm sharing her recent email.
Hello Fishmama!
I was wondering if you could give me any advice for library day? My 6 year old daughter & I used to go to the library every week. She & I have both always loved books. Last August we adopted our son, M, from Ethiopia. He is now 18 months & is not fond of library day! 🙂 He is very loud, and does not like to be in his stroller. But, if you let him out, he will take off! If you leave him in the stroller, he gets angry & everyone in the library knows it! 🙂 He does love books – he'll sit for quite a while and "read" them at home. But there's something about the library!
Is it just that he's 18 months? There's such a huge age difference between my children that I think I forgot what she was like back then! Is it a "boy" thing?! Or am I lacking in my discipline?! We're hoping to continue growing our family both biologically and through more adoptions. But I need to get some control over the 2 I already have! 🙂 Thanks for any ideas or advice. And thank you for your blog – it's very helpful and inspiring!
Sincerely,
Amy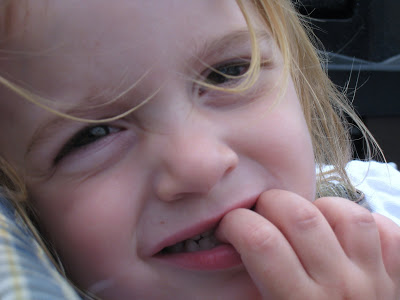 Hi Amy,
I'm no expert, but I have found that library day looks a lot different now than it did when my oldest and I were able to go twice a week for storytime. I'm not sure if it's the split attention, or what, but my toddlers have always struggled. I've tried several different ways to handle it at different seasons, including:
leaving the toddler home w/ my husband and going in the late afternoon/evening or weekends with the bigger one(s)
all going as a family on Sundays after church w/ my husband handling crowd control while I handled books, etc.
keeping the toddler locked in the stroller (I never had a screamer, so I'm not sure on that one)
not going for a season, but just requesting books online and having my husband pick them up on the way home.
These things have worked for us. But, we have never really "solved" it. That said, I think your situation is really normal — or we're both weird.
(I'll choose the former! )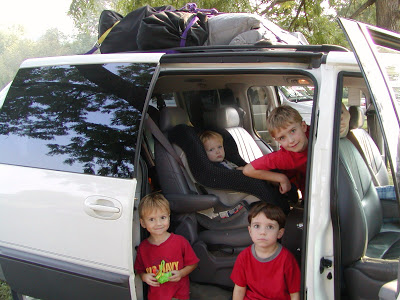 As for your questions about the boy thing? Discipline?
Maybe, maybe not. That's so hard to tell because every kid is different. I had four boys to start and they were never carbon copies of one another. Each one had things to surprise me with!
As you hope and plan to grow your family, you'll find what I call "bottom line expectations" and the kids need to rise to those (provided they're reasonable for their development, etc.) I'm not talking in a militant, toe-the-line or else manner, but rather, "we're building a family culture here and part of what we do is enjoy the library."
If the weekly trip is really important to your routines, I would test different things to help him be more content at the library. He's still a little guy and needs help to learn that.
Talk about it with him before you go. He can understand more than you think. Tell him what you expect and practice "quiet voices" at home. You might even practice a library situation at home or outside the library. Make it fun. And talk about how fun it can be.
Provide age-appropriate activities for him to do while there. For instance, our library has a section of chunky books and puzzles esp for toddlers. I often leave my daughter in the stroller, push it up to a table, like a chair, and let her play with those items. If your library doesn't have that, pack a small bag of things that interest him and save it only for the library.
Go prepared with a plan of what you will do if he acts up and be consistent. Likewise, praise and encourage him when he is behaving well.
With practice and dedication, you can teach him to behave appropriately at the library. But, it will take time and it will make you feel inefficient. That doesn't mean it isn't worth doing, but you have to go with the right expectation. Teaching him the right way to go is harder than just saying the words.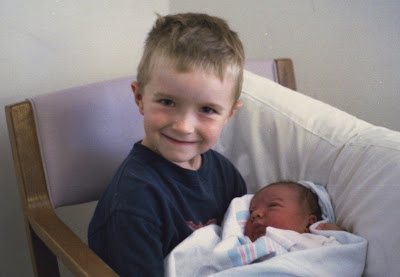 Life with a second child looks different…
not better or worse, just different than it did with one child. Your daughter is so much older, you may have forgotten. God blesses mothers with amnesia from time to time. But, regardless, you are building a family culture with the exact precious people that God destined to be yours. There's no "one right way" to do it, but, Lord willing, you'll find your way as time goes on.
It goes without saying, "pray, pray, pray!"
OK, Moms, anything to add? What advice would you give to our fellow mama?