You and I both know that we should clean as we go when we're working in the kitchen. And we should always put things away as soon as we're done with them. And we should never go to bed with a messy kitchen. Your mother taught you all that, didn't she?
Well, sometimes life happens. And sometimes your kitchen gets to looking like this: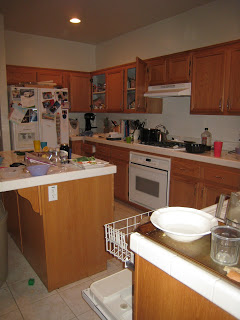 Yikes?! (You didn't know this was a true confessions post, did you?) So, whaddya do in this situation? Here's my formula for a quick kitchen clean up:
1. Pick a spot in the room as your starting point. I usually go for the area to the right of the refrigerator. There's not much to the left anyway, so it's a natural starting point.
2. Move clockwise through the room, closing cupboard doors, putting away appliances and ingredients, taking dirty dishes to the sink, straightening stuff on the frig, relocating Lego men, hair clippies, and all other sorts of hodge-podge to their appropriate locale. In about 10-15 minutes it can look like this: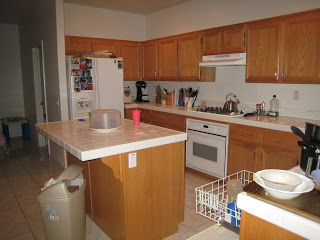 3. Empty dishwasher and dish rack. Put every item away.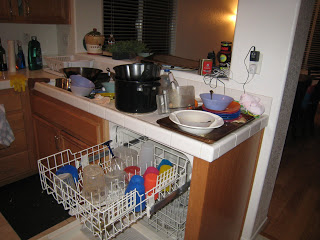 4. Load dishwasher and get it going. I try to fit as many dishes in as possible. Over the years I have found what works and what doesn't as far as economizing space. Experiment with yours.
5. Wash the dishes that are left, hopefully just knives and pots and pans. I like to use a bottle of hot, soapy water, rubber gloves, and a dish sponge. I wash the remaining items by hand, rinse, and stack in the drainer to dry. Every few days I toss the sponge into the dishwasher to kill bacteria.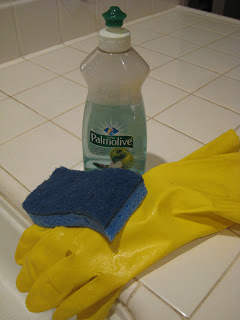 6. Wipe down surfaces. While the dishes are drying in the rack, I scrub the sink with cleanser and wipe down the counters. I use a washcloth and hot, soapy water for the counters so as not to spread bacteria. Then, that washcloth goes straight to the laundry room.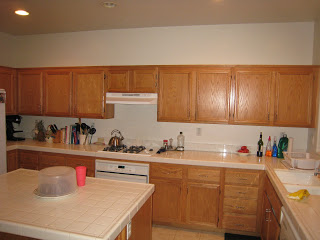 Tackling this recent disaster took a total of 45 minutes with picture-taking stops along the way. I focused and tried to power through. Obviously, the "quickest" way would have been to clean things as they got messy. But, let's be real. Sometimes things pile up. So find the quickest way to dig out.
Check out Kitchen Tip Tuesdays and Blissfully Domestic for other great kitchen tricks.
Got a trick to cleaning up the kitchen quickly? I'd love to hear it. Please share it in the comments.