Quick Ways to Calm It Down: Read a Storybook with Your Child
We are a participant in the Amazon Services LLC Associates Program, an affiliate advertising program designed to provide a means for us to earn fees by linking to Amazon.com and affiliated sites. We participate in other affiliate programs as well. For more details, please see our disclosure policy.
The holiday season,  and particularly the weeks leading up to Christmas, can be full of to-do lists, stresses, disagreements (often petty), and a general feeling of hurriedness. Let's calm it down.
One of my biggest dreams when I first became a mom was that my kids would love books as much as I do. When I was a child, books were my very best friends. My mom would take us to the library on Saturday, and I would bring home a dozen books to devour that day.
My dad and some of my siblings didn't really like to read, so they didn't get it. My dad just didn't understand why I would sacrifice sleep to read a book all night long.
Now that I have a child who will sneak a light stick under the covers in order to snatch a few more pages, I understand his impetus, even though I still make him shut it down for the night.
Reading brings me calm and rest. In the early days of parenting and homeschooling, if we were having an awful, no-good, horribly rotten day, all I needed to do was switch gears and bust out books to read.
My older kids have always been fans of family read alouds. (We didn't have ipads back in their day. Ahem.) Slowly, I'm indoctrinating my littler kids into the beauty of books. Five can read now and all five love stories.
Feeling stressed?
Read a storybook with your child.
Take a few minutes, or even an hour, gather the kids to you and just take a break. We're currently reading The Monster in the Hollows by Andrew Peterson. It's one of our favorite books series. The older boys know how it ends, but the younger kids are hearing the story for the first time. It's a daily activity that we all enjoy.
So what are you waiting for? Go read a book with the kid!
Need more motivation?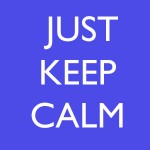 This post is part of FishMama's campaign to Just Keep Calm. Every day during the weeks leading up to Christmas, I'll post a different idea to help you keep calm, gain perspective, and not let the holidays (or any time of year) make you a crabby mom.
What are YOU doing to keep calm today?