Quick Ways to Calm It Down: Watch Pride & Prejudice
We are a participant in the Amazon Services LLC Associates Program, an affiliate advertising program designed to provide a means for us to earn fees by linking to Amazon.com and affiliated sites. We participate in other affiliate programs as well. For more details, please see our disclosure policy.
The holiday season,  and particularly the weeks leading up to Christmas, can be full of to-do lists, stresses, disagreements (often petty), and a general feeling of hurriedness. Let's calm it down.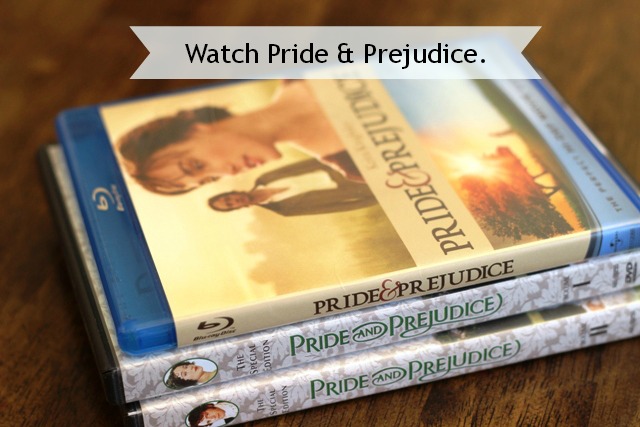 Years ago, like when I was ten, a cousin gave me a hardbound copy of Pride and Prejudice. Unfortunately, I was a child who thrived on fluff, like Sweet Valley High. I didn't understand the beauty of the book I had received. It wasn't until I was married with kids that I discovered the rest of Jane Austen's library and reacquainted myself with P&P.
Needless to say, I was hooked.
Then my sister built me a collection of nice hardbound Austen books and gave me the BBC version of Pride and Prejudice miniseries. Watching that miniseries — all six hours of it — became a comfort to me. In fact, one of our last winters in Kansas when the kids were all pretty little, I was sick all the time, it seems. I would lie on the couch, cuddled under a blanket, and watch Elizabeth Bennet fall in love with Mr. Darcy again. And again.
The boys knew that they could join me or go play Lego.
FishPapa rolls his eyes when I wax eloquent about P&P. I said in defense, "You loved both movie versions!" (Psst… he prefers the Keira Knightley version).
His response, "Yeah, the first three times."
Apparently, subsequent viewings don't have the same calming effect on him as they do on me.
And maybe some other movie does it for you. That's fine.
Watch a movie for YOU.
Take an hour or two off today, put your feet up, and turn on a favorite flick. Make it relaxing. Make it a moment where you go off to another world for just a little while. Be sure to come back!
Hopefully, when you do, you'll be ready to tackle the next thing on the to do list.
Need more motivation?
Watch a Movie – includes movie recommendations by each FishFam member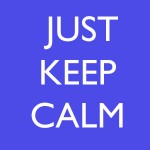 This post is part of FishMama's campaign to Just Keep Calm. Every day during the weeks leading up to Christmas, I'll post a different idea to help you keep calm, gain perspective, and not let the holidays (or any time of year) make you a crabby mom.
What are YOU doing to keep calm today?