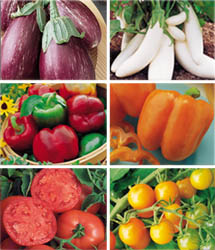 Nutritionists tell us that a great way to have a well-rounded diet is to include all the colors of the rainbow in our diet. (No, ketchup doesn't count for red.) But, as you browse the produce aisle, try to include all the different hues and you've upped the substance in your family's diet. You know that pretty colors can entice many a picky eater to try a new food.
Another great way to encourage good eaters is to teach your peeps to garden. Our kids have always loved to plant seeds and seedlings, water the garden, and check on the harvest. And each one will at least try whatever it is we're growing.
Burpee has developed a rainbow vegetable garden that you can grow at home with your children. What a fantastic idea!
The Rainbow Vegetable Garden includes: 9 PLANTS (1 of each)
Eggplants: Purple Rain and Crescent Moon
Peppers: The Godfather, Orange Belle II and Red Delicious
Tomatoes:Burpee's Big Boy, Sun Gold, BushSteak and Sweet Tangerine
In this week's giveaway, THREE LifeasMOM readers will each receive a Rainbow Vegetable Garden. How fun is that?!
Winners will have plants shipped straight to their doors at the proper planting time for their area — except for those living in Alaska, Hawaii, California, Nevada, Georgia, and Idaho. Any winners in those states will receive Burpee gift certificates. Contest will be open until Sunday, March 28 at 8 pm PST. Winners to be chosen at random.
To enter? Simply leave a comment telling us your favorite vegetable. Please make sure that you leave an email address so that I can contact you if you win.
This giveaway is now closed. Congratulations to Kimberly (whiteiris717@), Nicole (nicolemartin0707@), and Kim in AZ (kanddbk@). Send me your snail mail, and I'll get your prize shipped out. Thanks for playing everyone!