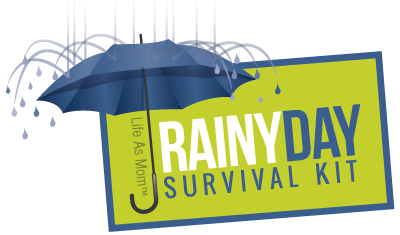 One of the things that can wreak havoc on "life as mom" is a rain or snow day with nothing for the kids to do. And those days are approaching!
Plan for the next blustery day when your kids can't play outside by putting together a few rainy day survival kits.
What's in a Rainy Day Survival Kit?
family-friendly book and film recommendations
links to coloring pages
craft ideas and/or supplies lists
recipes for cooking with kids
You can either gather what you need ahead of time or simply bookmark or pin the Rainy Day posts to save it for an occasion when you really need it: when the kids are home sick, when school is canceled due to inclement weather, when something prevents the kids from getting outside and having fun, or whenever someone whines, "There's nothing to do, Mom!"
Hint: These ideas also work great for your next themed birthday party.