Refresh yourself with a good book. Here's what I'm planning to read in the new year.
Today's assignment is to choose a good book and start reading.
Every year near the end I start thinking about the books I want to read in the next year. I've been doing this for at least ten years now. I love to read. If I were independently wealthy and didn't need to cook or clean, I would spend my days reading.
Last week I shared how Booking It (as a formal thing) was ending, but book reviews are not. I'm still going to read and I'm still going to tell you about what I read. I'm just not going to do it every fourth Monday on the dot.
Anne, Carrie, and I had an email exchange this morning about books. They are so much more "with it" about new books than I am. Honestly, the world is a scary place sometimes; you never know what you're going to get when you pick up a seemingly innocent novel. So, I like to get feedback from folks more in the know.
I also did some searching with Mr. Google about "best books" just to see if I have missed something over the years. I was surprised to see this list of the Best Selling Books of All Time. I've read five out of eight of them, but decided I might work through the list this year to see what's all the fuss about those other three, and maybe to reread The Little Prince. I think I missed something there.
Since London, I've been working through The Lord Peter Wimsey Mysteries. I have  a few more to go. I also peeked into my Kindle files to see what I've been stockpiling yet haven't read. Sometimes I'll see a book free or cheap on my Facebook feed and I'll grab it. And then forget about it.
Here's my list for the time being. None are "new", so call me "out of it".
Now, go find a book and read.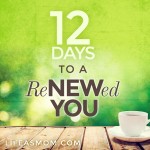 This post is part of a 12-part series, 12 Days to a Renewed You. You can read through the archives here.