Reader Q&A: Chores & Kids
We are a participant in the Amazon Services LLC Associates Program, an affiliate advertising program designed to provide a means for us to earn fees by linking to Amazon.com and affiliated sites. We participate in other affiliate programs as well. For more details, please see our disclosure policy.
Occasionally, readers write with questions that I know others might be able to add to or benefit from. Today we're talking about helping kids learn responsibility through doing household chores.
Take whatever I say with a grain of salt, and be sure to add your two cents in the comments section.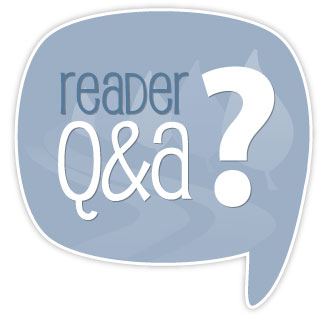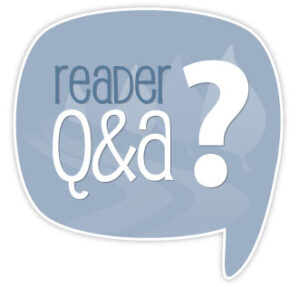 Q.I'm wondering if you could give advice about chores. My 4 year old son has chore cards for his am & pm routines (4 each on an O-ring hanging in his bedroom). These cards work great; he loves to do them.
Now move downstairs to the great room and he refuses to take care of or put away his toys…. I would like to start a rewards system for him to earn computer game time, one on one time with Mom or Dad, tv time etc. I just don't know where to start.
A. I wish I could say that there is a "one size fits all" answer to the kids and chores dilemma. I think most of us parents want to teach our kids responsibility as well as get a little help around the house.
And there's the added fact that we're in relationship with one another. Good relationships require cooperation between the parties involved. Only trouble is children don't always want to cooperate or understand the social mores involved in communal living.
Not to mention that you're the parents and get to call some of the shots!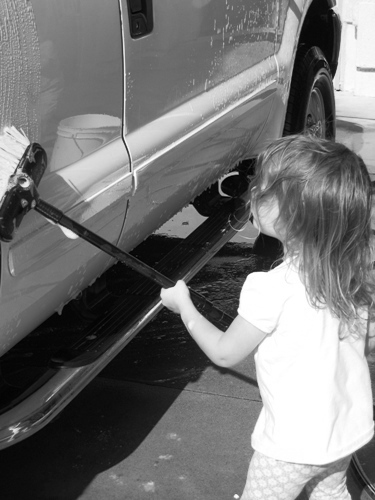 On rewards
I've struggled with the rewards system for about 14 years now and have never really found one that worked successfully for our family. Personally, I struggle with the fine lines between incentives/bribes and consequences/punishments. I don't want to be too strict or too lenient.
The result is that we tend to look at cleaning up after yourself and contributing to the workings of the household as just part of the territory. You live here, so you are a part of what we do. We offer monetary incentives (from a quarter to a few dollars) for extra jobs, depending on the child and the task that needs to be done.
Some things motivate one kid in one season and then fall flat with the next kid or even with the same kid during a different stage of development. So, some of this is just trial and error.
Currently, washing the car is considered a veritable treat for my little people. But, in a few years, it may very well become a "chore."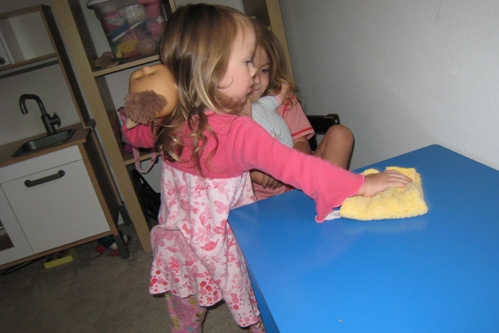 On cleaning up one's toys
I have no qualms about taking away toys that are not cared for. While I think every child or household should have some fun, developmentally appropriate toys, most kids I know, my own included, have more than they "need." If those playthings aren't important enough to put away, then maybe the children don't really need or want them any longer.
Or they'll learn a valuable lesson on stewardship.
If you (the parent) don't play with them, I don't think you should have to clean them up. While all children are different, many as young as two are capable of picking up their toys. You may need to reconsider how you store them and make the clean up process as easy as possible. But, physically picking up a toy and dropping it into a plastic tub is well within the reach of many kids.
On your particular situation
In your particular instance, I would simply add a card to each O-ring that says, "Pick up your toys." A twice daily pick-up is probably reasonable protocol or you might even want to create a mid-day ring of cards that includes some fun things like snack time or stories.
Since your system is already working, I think that adding one card should fit nicely. Talk it up that he's getting to be such a big boy, that he's able to handle more responsibility. And feel free to add in some extra privileges that go along with the extra responsibilities.
That said, I am no parenting expert. Some days chores go like clockwork at our house and everyone cooperates beautifully. And other days, I'm tearing my hair out to get folks to move. But, that's where my thought process is these days.
To quote Forrest Gump, "that's all I've got to say about that." 😉
What do YOU think?
How does YOUR family handle chores for children? Let us know what works for you in the comments section.