Reading the Bible for Yourself
We are a participant in the Amazon Services LLC Associates Program, an affiliate advertising program designed to provide a means for us to earn fees by linking to Amazon.com and affiliated sites. We participate in other affiliate programs as well. For more details, please see our disclosure policy.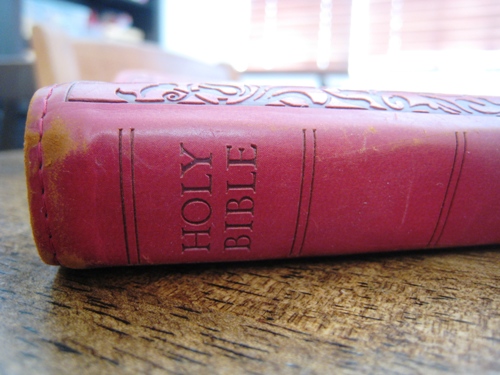 …. the Holy Scriptures, which are able to make you wise for salvation through faith in Christ Jesus. All Scripture is God-breathed and is useful for teaching, rebuking, correcting and training in righteousness, so that the servant of God may be thoroughly equipped for every good work. — 2 Timothy 3:15-17 (emphasis mine)
It's only in my old age that I'm growing in my appreciation for the Bible. I used to just read books about the Bible — and half the time I just skimmed over the verses the author was quoting.
Experience has taught me that humans will misinterpret, and yeah, mislead us in their Bible teaching. I have to compare everything that I read and hear with what the Bible actually says in order to find my way in this life. Sometimes, people do get it wrong.
For instance, God helps those who help themselves? That's not in the Bible. It is often credited to Benjamin Franklin, though, even that is disputed. But, many assume that it is a Bible verse, when, in actuality, it is not. We have to read the Bible for ourselves!
That was why it was so important to people like William Tyndale to translate the Bible into the common tongue. He was burned at the stake for his pains, but not before translating the Hebrew and Greek texts into English, not Latin. Thanks to the printing press, this translation was distributed widely and the basis for a large portion of the King James translation.
Equipped for every good work
If we can know what God has to say to us, and read it with our own eyes, our lives can be transformed. We can be equipped for every good work. I like the sound of that.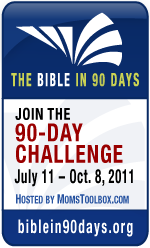 Last summer I read the Bible in 100 days. OK, yes, the goal was 90 days. But, still. I think it counts, don't you? Really, though, it wasn't about racing through the Bible. It was about engaging in the text in a new and different way, to read the Bible like a story, His-story.
It may sound really daunting — to read the entire Word of God in three months' time, but men and women throughout history actually made it a regular practice to read through the Bible several times a year.
And speaking from experience, I have to say that reading the Bible quickly helped it seem less daunting to me. It gave me a greater sense of familiarity and comfort with the Word, which is, after all, a very good thing.
Don't be afraid of your Bible!
Starting tomorrow MomsToolBox is hosting a 90-Day Challenge. It's not too late to participate. You can head here to get all the details. I started last week since I know I am prone to wander, but already am excited about the adventure.