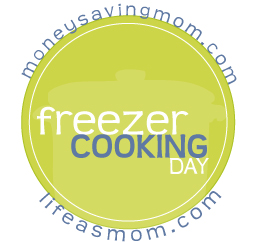 Freezer cooking is a great way for you to save money and time as well as put a hot meal on the table every night. Each month Crystal and I have been co- hosting Freezer Cooking Days, and it's been so fun! However, my Kansas buddy is sitting this month out, but I look forward to cooking with her again next month.
In the meantime, you'll join me, won't you?
You don't need to make 30 casseroles. Consider meal kits, components, and other time-consuming parts of meals that can be made ahead.
You don't have to make dinner. Maybe breakfast time is the real crunch time at your house. Think about making some mixes or flash freezing a few batches of scones or cinnamon rolls.
You don't have to go it alone. We're here to help! Chime in on Facebook. The LifeasMOM crowd on Facebook is super helpful. Or check in on twitter. Use #oamc on Twitter and you'll get a wealth of responses. And of course, just leave a question here and I'll do my best to answer.
Yesterday I shared my freezer cooking plan. Now's your turn. Tell us about your freezer cooking projects for the month.