Ready to BOOK IT in 2010?
We are a participant in the Amazon Services LLC Associates Program, an affiliate advertising program designed to provide a means for us to earn fees by linking to Amazon.com and affiliated sites. We participate in other affiliate programs as well. For more details, please see our disclosure policy.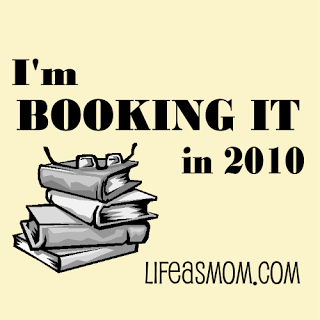 So, I've been alluding to a mystery reading plan for a week or so. Today's the first chance I've had to share it. Life has been so full of outings and good conversation with friends, there's been little time to read, let alone talk about it!I love to read. It is one of my favorite ways to while away the hours. Reading is a great use of our minds and imaginations. It may sound trite but it really does open up worlds of opportunities. What fond memories I have of staying up all night reading an engrossing novel or that "a-ha" moment when a light bulb goes on in my head while reading a non-fiction work that helped me grow as a woman, a wife, or a mother.
Yet, as my days get fuller, I find that unless I am extremely intentional, reading a real book — not a magazine or back of a cereal box — can fall by the wayside. Ever have that happen to you?
Create a Reading Plan
One way that I can be intentional in my reading is to create a reading plan. For years it has been a practice of mine to spend the first week of the year plotting out a course of books I want to read in the coming twelve months. It's always been fun to see how my lists evolve over the year and which books I enjoyed and which ones didn't make the A list.
This year I'd like to invite you along on my quest to read more. "I'm Booking It in 2010" and I hope you'll join me in reading more in the new year.
But it's not books I pick!
Last year I had the best intentions of following along with a book club, but I found it to be a little restrictive to have a book all picked out for me. I felt like I had to read the chosen book of the month whether or not it was all that interesting to me or fit my season of life at the time. And that does not make for a happy reader.
Since I like to set myself up for success, sometimes that means setting my own goals. And that's what I want to challenge you to do. I want to invite conversations about books and to provide a way to share book recommendations. And there's no "right way" to do this.
Do you want to:
Unlike a book club where the books are chosen, I want you to feel freedom to go where your interests lie. But for those who might not know what they want to read, I'll also offer suggestions throughout the year as well as feature some great guest posts. Each month I'll have a check-in opportunity for you to link up with book reviews or progress reports on your reading goals. Tomorrow I'll post a Mr. Linky for you to share your reading goals for the year.
As for me, I'm going to try to read one book a month, in a number of different categories:
organizing/homekeeping/homeliving
food
finance
education, specifically homeschooling
family fun
parenting
novels just for fun
I haven't decided on all of them. But, I hope to read at least two in each category. I know of a few that I've been interested in checking out. And some books on my list are rereads. If you've got a suggestion, I'd love to hear it!
Here's my working list for the next month or five. Got a suggestion as to what I can add?
homeliving – The Hidden Art of Homemaking (reread)
finance – The Total Money Makeover
finance – The Complete Tightwad Gazette
family fun – The Creative Family
food – The $5 Dinner Mom Cookbook
Whaddya think? Are ya ready to BOOK IT?
Feel free to grab the button above and write a post with your reading goals for the year. Then come back tomorrow and link up. I can't wait to be inspired and fill in the rest of my list. (If you don't have a blog, that's ok. Just share your goals in the comment section tomorrow.)