THIS EBOOK IS NO LONGER AVAILABLE.
It's true. Cooking with kids can be a little messy.
In fact, I remember the first time I ever attempted a kitchen project with small children. I was in college, which means that I knew everything and had all the confidence in the world. On a babysitting night during the holiday season, I came up with the great idea to bake and decorate sugar cookies with my two charges, ages four- and two-years old….
I couldn't quite understand why the mother had such an incredulous look on her face when I announced my plan for the night. About four hours later, when every square inch of the kitchen, as well as the children, were covered with flour and powdered sugar frosting, a lightbulb went on. Yes, then I knew why she was so shocked by my little project.
It can be a lot of work!
Since then, I've learned a little about being in the kitchen with kids. And patience is one of the necessary ingredients. Trust me. But, since my husband and I both love to eat and to cook, it's been only natural to invite our children to join us. And like that babysitting client so many years ago, I've looked on with shock while my husband let our two-year old crack his first egg.
We've come to find out that not only are our children learning invaluable life skills, but we're also making wonderful memories together.
It's definitely a mess worth making!
Over the years I've found recipes that are easy on the cook, but that also lend themselves to including the kids. I've put them together in an ebook that is now finished! Yeah! My baby before the baby!
So if you've…
Ever wondered how to get kids enthusiastic about mealtime?
Been stumped for ideas and recipes to try with your children?
Been looking for simple solutions to cooking with little ones?

Look no further!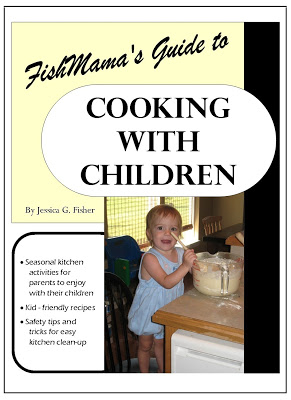 This, my first ebook, is now available for purchase. It includes:
Seasonal kitchen activities for parents to enjoy with their children
Over 25 kid – friendly recipes sure to satisfy even the pickiest eaters
Safety tips and tricks for easy kitchen clean-up
Purchase this book for $4 or buy both my ebooks for $6 here.
P.S. If you like it, please spread the word!