If you've been reading here awhile, you know that I am currently on a mission to healthify my family's diet as well as keep our grocery budget low. This is no small feat!
We currently spend $500-600 a month to feed our family of 8. A lot of this is thanks to couponing and cooking from scratch. Freezer cooking has helped greatly to keep my costs low. And my pantry is starting to change a little. I realize, though, that as I make the move to incorporate more organic foods, more whole grains, and fewer processed foods, that I could be up against higher totals at the checkout.
I've heard that many of you desire the same things and face a similar challenge. That is why I am so pleased to share today's giveaway with you.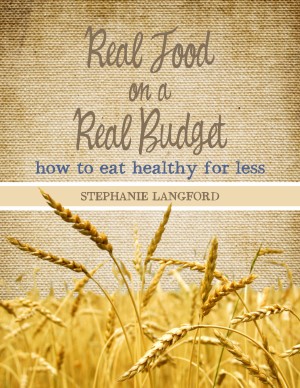 Stephanie Langford, also known as Keeper of the Home, has written an extremely profession, well-thought out volume, entitled Real Food on a Real Budget: How to Eat Healthy for Less.
In this book, Stephanie addresses the myriad of ways to provide your family with good eats, including meal planning, cooking from scratch, buying in bulk, food preservation, using coupons, and growing your own. It's a well-thought out tome.
Stephanie has not only put together the most professional-looking ebook I've ever seen, but she has crafted a go-to resource for those who want to eat well, enjoy good health, and "act their wage." I'm looking forward to implementing many of her recommendations in the coming months and years.
(Yes, I need to do these things in baby steps.)
If you'd like to get reading right away, you can buy the digital edition for $18.97. Or for an extra $7 get a printed copy shipped to your home.
Or win a copy of Real Food on a Real Budget here!
This week, in honor of LifeasMOM's blogiversary one LifeasMOM reader will win a copy of Real Food on a Real Budget.
Simply leave a comment on this post, telling us how you would like to improve your eating habits this summer.
Giveaway will be open until Sunday, May 16th 8 pm PST. Winner will be chosen at random and notified by email. Those who don't respond within 48 hours of their notification email will forfeit their prize. International winners are welcome!
Disclosure:  Keeper of the Home provided me with a digital copy of this book for review purposes. I was not compensated in any way for reviewing this product or offering this giveaway, nor was I required to do so. My opinions are my own. For more information, please see my disclosure policy