Can the canned cream soups. Make green bean casserole from scratch!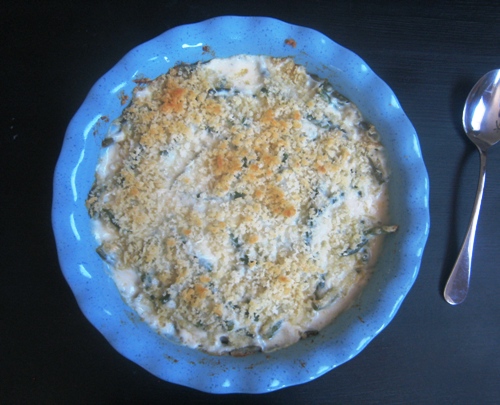 This year I decided to take classic Thanksgiving favorites and remove the processed food from them.
Last year I took that famous Pretzel Berry Salad/Jell-O dish and healthified it. The result was Raspberry Cream Cups. It mirrors the flavor of the pretzel-berry-jello dessert of yore, but it's so much better for you!
Last week I remade my mom's Traveling Taco into Really Homemade Seven Layer Dip. The real food version is not any harder to make, but it's actually fairly good for you.
So, I'm officially a woman with a mission. By the end of the month, I'll be able to present an entire Thanksgiving meal that is just like it was when we were kids — without all the boxes and cans. I don't recommend making the entire meal this year; your people might revolt if you switch things up too much. But, I think subbing out one or two dishes for a real food version is a fabulous, healthier, just-as-tasty trick to pull.
And next year, you can change a few more things.
This week, I made Really Homemade Green Bean Casserole. My mom never made this for our family celebrations, but as an adult I decided to give it a try. I love it, especially when it's got some cheese in it.
I made this batch with Homemade Cream of Celery Soup for Cooking. I used the recipe from my book, but you could use this one. It's close, though not exactly the same. I prefer the one in the book.
I used frozen green beans in order to achieve a fresher taste than canned. If you prefer, use canned. And while I know that french fried onions are traditional, I opted out of frying my own and just topped the dish with buttered panko bread crumbs.
Recipe: Really Homemade Green Bean Casserole
Ingredients
1 1/2 cups Homemade Cream of Celery Soup for Cooking (from my book or try this one)
1/2 cup sour cream
16 ounce bag frozen green beans (no need to thaw)
1/3 cup grated asiago cheese
2/3 cup panko bread crumbs
2 tablespoons melted butter
Instructions
Preheat the oven to 350 °. Grease a 10-inch round baking dish.
In a medium mixing bowl, combine the celery soup and sour cream. Stir in the green beans.
Spoon the mixture into the prepared pan. Sprinkle with asiago cheese.
In a small dish combine the panko and the melted butter. Sprinkle this mixture evenly over the cheese.
Bake for 45 minutes or until bubbly and the top is light golden. Serve immediately
Preparation time: 20 minute(s)
Cooking time: 45 minute(s)
Number of servings (yield): 8

URS Guidelines
Remember: Each week at Ultimate Recipe Swap, there is a posted theme. You are welcome to share any recipe that fits the theme and contains a link back to Life as MOM. If you're curious about the upcoming themes, I have a calendar here. This week's theme is Holiday Side Dishes
If you have a recipe that fits the theme, please link it. However, things like Beef Strogonaff will be deleted from Chicken week because it doesn't contain chicken. Please keep this meme as helpful to others as we can.
And don't make me the bad guy! 

What's a favorite holiday side dish at YOUR house