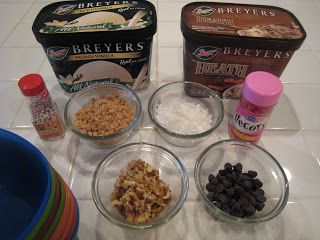 Ice Cream Sundaes! (Or Ice Cream Fridays, as the case may be.)
Now's the time for ice cream sales. I've purchased it as low as $2 a (almost) half-gallon in recent weeks. Raid the baking cupboard to see what kind of mix-in's you've got available. Children – of all ages – will love piling on candy sprinkles, chocolate chips, chopped nuts, coconut, or even cinnamon sugar to give plain ole' vanilla ice cream a boost.
What's your favorite topping that might be lurking in the pantry?