Recipe for a Fun Friday Night
We are a participant in the Amazon Services LLC Associates Program, an affiliate advertising program designed to provide a means for us to earn fees by linking to Amazon.com and affiliated sites. We participate in other affiliate programs as well. For more details, please see our disclosure policy.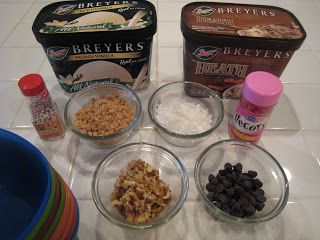 Ice Cream Sundaes! (Or Ice Cream Fridays, as the case may be.)
Now's the time for ice cream sales. I've purchased it as low as $2 a (almost) half-gallon in recent weeks. Raid the baking cupboard to see what kind of mix-in's you've got available. Children – of all ages – will love piling on candy sprinkles, chocolate chips, chopped nuts, coconut, or even cinnamon sugar to give plain ole' vanilla ice cream a boost.
What's your favorite topping that might be lurking in the pantry?