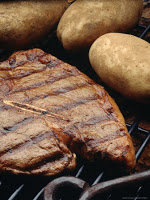 These recipe swaps can really make a girl hungry, ya know? Last week's pumpkin carnival had me rushing out for canned pumpkin only to come back and read more recipes with ingredients I didn't have. So this week's shopping list includes cream cheese for Janel's Mini Pumpkin Cheesecakes and a vat of oil for those Pumpkin Spice Donuts that Tiffany linked to. Oh my! What will y'all have me shopping for next week?
I've mentioned before that the FishBoys are a bunch of carnivores. And so when the answer to "What's for dinner?" involves some kind of meat and potatoes, smiles abound. I've posted some of their favorites before: Tandoori Chicken, Cheesy Potatoes, and Chicken Pot Pie, just to name a few. I know that after this swap, I'll be set for new and exciting Meat and Potatoes meals to please the masses.
Today's recipe is super easy, especially since I don't cook it. FishPapa is the grill master around here. Last week he found a brand new Holland Heritage Grill on Craigslist for 100 bucks, so he is very antsy to get grillin'. Since the temps have been hovering in the 70s, and flank steak and tri-tip have been on sale, I've got it made.
Here's the marinade we tried last week when we innaugurated the new BBQ. Everyone one loved it! I used Rachel Ray's Marinated Grilled Flank Steak with BLT Smashed Potatoes recipe for inspiration. I didn't have all the ingredients to make the potatoes, and I tweaked the marinade, as posted here. But, I'll be returning to try it her way sometime soon.
3 cloves garlic, finely chopped
1/2 tablespoon black pepper
1/2 tablespoon kosher salt
1 teaspoon paprika
2 tablespoons red wine vinegar, 2 splashes
1/3 cup vegetable oil
Combine all ingredients. Place meat (such as flank steak or tri tip) in a shallow pan. Thoroughly coat with marinade. Allow to rest 20 minutes, longer for tri-tip. Cook over hot grill until desired doneness. (We cook until an internal temperature of 135 degrees.) Let meat rest for juices to recombine. Slice thin against the grain. Serve with a green salad and Cheesy Potatoes.
What Meat and Potatoes menu makes your heart sing? Share it with us!
1. Write about it on your blog and bring your link back here. (For specifics on how to post in Mr. Linky, go here.) Please remember to link to www.lifeasmom.com so that your readers can see other people's ideas as well.
OR
2. Share your idea in the comments section.
Related posts:
(Never) Too Many Pumpkins
How 'Bout Them Apples?
Recipe Swap Revue (past swaps and a schedule for future recipe exchanges)
*photo courtesy of Allposters.com