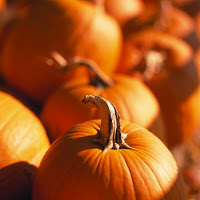 Years ago I found this great book at the library called Too Many Pumpkins. It tells the story of Rebecca Estelle, an elderly woman who, as a result of living in the Depression, hated pumpkins. It turned out that the only food her family had had for a season was pumpkins. Consequently, she avoids pumpkins all her adult life until one day the pumpkin truck abandons a huge one in her front yard. In this lovely picture book, we watch as her dislike for the big orange squash is transformed into an affection that brings people, pumpkins, and good food together. I don't want to spoil the story, but let me just say Rebecca Estelle would appreciate this week's recipe swap.
Our all-time family favorite is this pie. I make it often throughout Fall and Winter. It is just fantastic, even for people who don't like traditional pumpkin pie. (Like me and Rebecca Estelle.)
Streusel-Topped Pumpkin Pie
15 oz. can solid pack pumpkin
14 oz. can sweetened, condensed milk
1 egg
1 1/4 t. cinnamon, divided usage
1/2 t. ground ginger
1/2 t. ground nutmeg
1/2 t. salt
1 graham cracker pie crust
1/4 c. firmly packed brown sugar
2 T. flour
2 T. cold butter
3/4 c. chopped nuts
Preheat oven to 425*. In large mixing bowl, beat pumpkin, sweetened condensed milk, egg, 3/4 t. cinnamon, ginger, nutmeg and salt. Pour into crust. Bake 15 minutes. Meanwhile, combine sugar, flour and remaining 1/2 t. cinnamon. Cut in butter until crumbly. Stir in nuts. Remove pie from oven. Reduce oven temp to 350*. Sprinkle streusel mixture over pie. Bake 40 minutes or until set. Cool. Serve with whipped cream, definitely. This is delicious warm, at room temperature, or chilled. Store in the refrigerator.
Have you got a favorite pumpkin recipe? Please share it!
1. Write about it on your blog and bring your link back here. (For specifics on how to post in Mr. Linky, go here.) Please remember to link to www.lifeasmom.com so that your readers can see other people's ideas as well.
OR
2. Share your idea in the comments section.
Updated: Check out this coupon for Libby's Pumpkin. Thanks, Freebies4Mom!