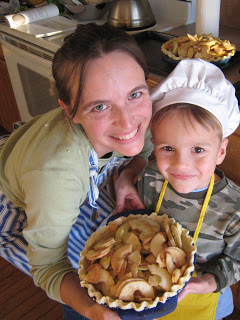 Pie is probably one of my very favorite desserts. I have wonderful memories of watching my Gramma John or my mom magically transform fruit, flour, sugar and butter into something amazing.
I was about ten when I first tried to do it on my own. Lemon Meringue with fresh lemons from our tree in the back yard was the first for me to tackle. Dad encouraged me to try Banana Cream Pie, his favorite. And a few years later took on our family classic, Gramma John's Blue Ribbon Apple Pie.
As the story goes, my Gramma John entered a number of dishes in the fair every year. And every year she nabbed a prize for her apple pie. Tradition was to share the recipe over the radio. But, sly woman that she was, Gramma always changed the recipe so that no one, least of all her competition, could steal the spotlight from her the following year.
As a result, her daughters in law always wondered if they had the right version of the recipe!
But, you know me, I'm all about sharing the wealth. So, here it is, Gramma's masterpiece, complete with my own tweaking.

Gramma John's Blue Ribbon Apple Pie
1 cup flour
1/2 cup butter or margarine, cut into chunks
1/2 teaspoon salt
1-2 Tablespoons cold water
6 apples, peeled, cored and sliced
1/2 cup sugar
1 Tablespoon lemon juice
1 teaspoon cinnamon
dash nutmeg
1/2 cup flour
1/4 cup nuts
1/4 teaspoon almond extract
2 Tablespoons butter or margarine
1/4 cup brown sugar
Preheat oven to 375°. In medium bowl, combine flour, 1/2 cup butter and salt with a pastry blender, or two knives held together. Kids can do this with a fork if that is easier. Work these ingredients together until they form pea-sized crumbs. Quickly stir in cold water and combine until a dough forms. Pat into a pie plate, pushing the dough thin and up the sides.
In large bowl, combine apples, sugar, lemon juice, cinnamon, and nutmeg. Pour into pie crust.In small bowl, combine flour, nuts, almond extract, brown sugar and 2 T. butter until crumbly. Sprinkle evenly over apple filling.
Bake 45-50 minutes, or until filling bubbles and topping is browned. If topping and crust brown too quickly, cover with aluminum foil until baking is complete. Allow to cool about an hour. Serve with whipped cream, whipped topping, or vanilla ice cream.

Got a pie recipe to share with us? Post it on your blog, mention LifeasMom.com so others can come back here, and then bring your link to good ole' Mr. Linky.
Don't have a blog? That's okay. We still like you. Share your recipe in the comments section instead.
Can't wait to see what yummy goodness y'all come up with!