Recipe Swap: Thanksgiving Appetizers
We are a participant in the Amazon Services LLC Associates Program, an affiliate advertising program designed to provide a means for us to earn fees by linking to Amazon.com and affiliated sites. We participate in other affiliate programs as well. For more details, please see our disclosure policy.
I love Thanksgiving! I mean what other holiday has eating as its sole purpose? That's my kind of holiday.
When I was growing up, we didn't have family nearby, but, instead adopted neighbors from down the street to celebrate the big winter holidays with. We alternated; one year we had Thanksgiving and the Griffiths had Christmas. The following year it switched.
It seems that my mom pulled out all the stops for the big feast. The kitchen was a bustle of activity the night before and the morning of as she sanitized the kitchen, prepped the turkey, and prepared Pretzel Berry Dessert and Toffee Dream Pie. The odor of chlorine bleach was quickly dissipated by the wonderful smells of a feast on its way.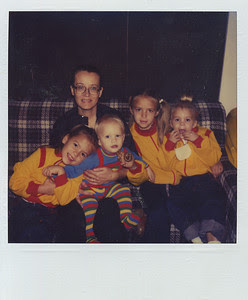 And that Thursday morning was a tough one for waiting. Dressed in outfits that matched my sisters, I would wander around, waiting and listening to my stomach growl. I tended to linger around the dining room table (that we only used once or twice a year) where mom had set out her best dishes. Sure, the table was beautiful, but what drew me, as always, was the relish tray that she had set out.
This was back in the days before baby carrots and ranch dressing had taken over the world. Back when "snack food" was a term not yet coined. The relish tray was, by far, the family tradition and the sole appetizer that I remember.
I loved that relish tray. It wasn't the fanciest of appetizers. It wasn't the tastiest. But, it was fun and it was reliable. Just like my mom.
Thanksgiving Relish Tray

one cut-glass, divided platter
radishes from Dad's garden
carrot and celery sticks
sweet gherkins
dill pickle spears
green olives with pimiento
black olives, meant for eating off the tips of your fingers
What's one of your favorite Thanksgiving Appetizers? Traditional or not, we want to hear about it!
Related posts:
(Never) Too Many Pumpkins
How 'Bout Them Apples?
The Meat and Potatoes Edition
Harvest Time
Recipe Swap Revue (past swaps and a schedule for future recipe exchanges)