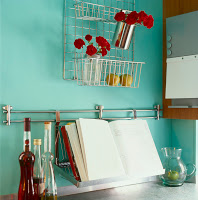 Do you know how much the food rules have changed since I had my first baby? In recent years I've been amazed at the growing lists of taboo foods: no alfalfa sprouts, no soft cheeses, no caffeine, no tuna fish, no hot dogs, no lunch meat, etc. etc. My goodness! Most of those were encouraged twelve years ago during my first pregnancy!
Thankfully, my doc is on the relaxed side. Last baby he gave me carte blanche on the food — except for limiting my intake of tuna and other fish that might absorb a lot of mercury. I'm good with that. Do you know how far we live from the ocean, anyway?
While he has allowed me to eat what I please, I have, nonetheless, been on the cautious side. I don't want to be plagued by thoughts of What if? But, now that we're on the Other Side (of birth), well, let's just say, "Bring it on! I'm hungry!"
One of my personal favorites?
Baby Greens with Nuts, Cranberries, Turkey, and Blue Cheese
serves 1
two handfuls baby greens
1/4 cup coarsely chopped pecans
1/3 cup dried cranberries
1/2 cup diced turkey
1/4 cup blue cheese crumbles
poppyseed or vinaigrette dressing
Arrange greens on plate. Layer with nuts, cranberries, turkey, and blue cheese crumbles. Drizzle with dressing.
Do you have a recipe that you love but which might be off limits during pregnancy? A favorite dish that you have to forego for safety or dietary reasons for the gestational period? Share it with us!
(Sorry, preggos, you'll have to wait to indulge. But, we'll keep this list handy for when you, too, are on the Other Side.)
1. Write about it on your blog and bring your link back here. (For specifics on how to post in Mr. Linky, go here.)
OR
2. Share your idea in the comments section.