This week over at Good Cheap Eats, we're talking about ways to Build a Frugal Pantry. Each week will feature a different ingredient, including storage suggestions, price points to watch for, a collection of recipes, and a wealth of guest posts. And each week over here we'll share recipes that use that ingredient. This week's ingredient is flour. Flour is essential to the frugal pantry because it enables you to bake from scratch, a fabulous way to save money.
In case you missed it,
I'm really looking forward to this series as I am already learning so much from my readers. Did you know that a bay leaf can be placed in your flour storage to keep away bugs? I sure didn't.
So, as a way to coordinate my two sites, Ultimate Recipe Swap will take its cues from the Frugal Pantry series. This week? Share your favorite recipes using flour!
Earlier this week I baked up a storm as the tail end of my freezer cooking daze. I made Breakfast Cookies, Chocolate Biscotti, and two batches of my Gramma John's Blue Ribbon Chocolate Chip Cookies. But, since I was feeling rather indulgent – who wouldn't after cooking like a crazy woman? – I doctored that last batch to suit my personal tastes. I tweaked Gramma's recipe and made something new. I haven't won any blue ribbons with them, but my! they are good!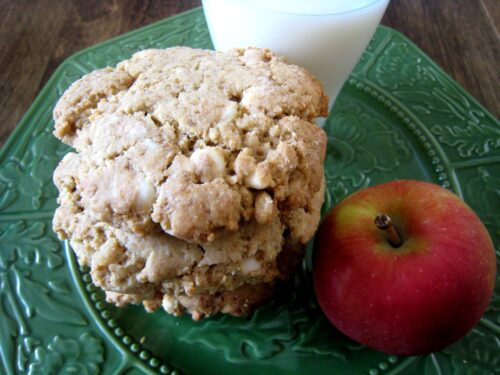 Recipe: White Chocolate-Walnut Cookies
Ingredients
1 cup sucanat
1 cup butter, softened
2 eggs
2 teaspoons vanilla
4 cups flour (I used 1/2 whole wheat pastry flour and 1/2 unbleached)
2 teaspoons soda
1 teaspoon salt
1 12-ounce bag white chocolate chips
1 cup chopped walnuts
Instructions
Preheat oven to 350 F.
Cream together sucanat and butter. Add eggs and vanilla, mixing thoroughly.
Blend in flour, soda and salt. Stir in chocolate chips and walnuts.
Drop batter onto cookie sheet in rounded tablespoons.
Bake 8-10 minutes or until set. Cool baked cookies on a rack.
Store cookies in an airtight container at room temperature for up to a week or in the freezer for up to 2 months.
Preparation time: 10 minute(s)
Cooking time: 10 minute(s)
Number of servings (yield): 12
What do you make with flour? Share it with us!
Here's how to participate in Ultimate Recipe Swap:
1. Post your recipe on your blog. Please mention www.lifeasMOM.com in your post so that your readers know where all the other good recipes are hanging out. Then, come back here to add the link to your post to Mr. Linky below. (Find instructions for Mr. Linky here.)
OR
2. If you don't have a blog, simply post your recipe or tell us about it in the comments section.
3. Above all, please stick to topic. Today is flour. So if your recipe doesn't include flour, it will be deleted. Thanks for understanding.
Have a story to go along with your recipe? We'd love to hear it!