The following post is sponsored by Tyndale Rewards. Tyndale Rewards is a great way to earn free books and Bibles to give as gifts this Christmas. This giveaway is now closed. Congrats to the winner: Julie_d_schafer@
November and December are interesting months. The voices of frugality, consumerism, fantasy, indulgence, faith, and goodwill to men all clamor to be heard.
Save on this! Buy that! Hohoho! You deserve it! Come, all ye faithful! Give here!
Some of the messages are most assuredly worth listening to, but some times it's hard to separate it all and have a moment's peace. The most wonderful time of the year can be a  cloudy, murky season to tread through.
We have to have our heads on straight. We need to be able to sift through the many messages we receive and identify the important ones. It's very true that we need to save money, want to give gifts, spark the wonder of the season with our children, enjoy a little fun, remember why we do it all, and give to those who need it.
We need to focus on what's truly important.
This is hard. I struggle with sifting these messages personally, but also in which sponsored posts to take on throughout the year and particularly at Christmas. It's my hope that this one will help you on a number of levels.
Redeeming Tyndale Rewards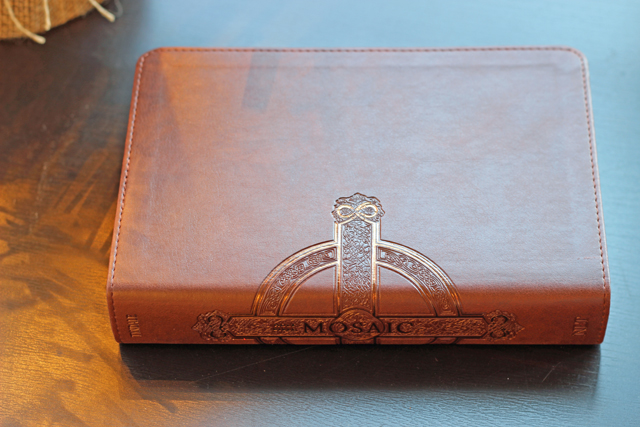 Earlier this year I told you about a rewards program that gives to you. Tyndale Rewards is completely free. Once you sign up, you have many opportunities to earn points, without making any purchases. Take a survey, join a focus group, ask an author a question, review an ebook, refer a friend, and more. Many point-earning options are unlimited and new options are added or refreshed each week or month.
Then you can redeem the points for free books. There's an incredible, ever-changing selection of books to choose from: fiction, nonfiction, Bibles, parenting, etc.
A few weeks ago, I redeemed points in my account for two copies of the new Mosaic Bible. The format of the book intrigues me. The front section is full of Scripture readings and devotions from Christians around the world and throughout history.
Since I don't know all the commentators, I can't vouch for their "orthodoxy", but I think whenever we hear messages from different segments of the Church, we have an opportunity to learn and grow and be Bereans (thus, the second section of the book which is the full text of the Bible in the New Living Translation). The format is aptly titled Mosaic, because the Big Picture is made of many small pieces that may or may not make sense on their own. When combined in total, they show us something about ourselves, our world, and God.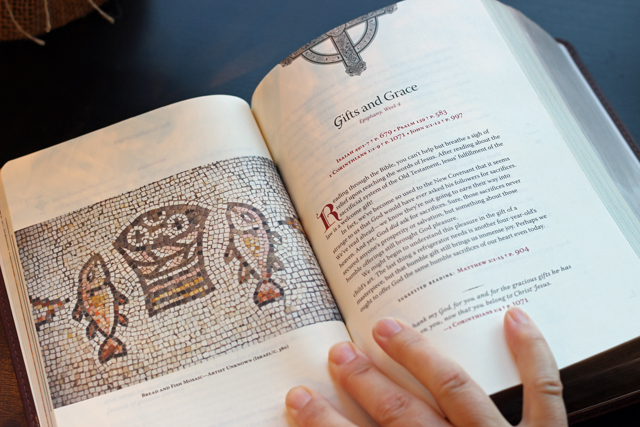 The hardcover is almost $30 on Amazon, but I got it free with 250 Tyndale Rewards points.
Redeeming Tyndale Rewards is a great way for you to give gifts, focus on faith, and save money. I'd say that's three great Christmas goals all wrapped into one.
Ordering is super easy; shipping is free; and their customer service is awesome. There was a glitch with my order and they got it fixed up in super snappy. Just be sure to redeem your rewards sooner rather than later if you want them for Christmas.
If you don't have an account yet, you can start off with 25 points with my referral link. You can earn points pretty quickly and have enough for at least one book. Bibles start at 150 points and kids' books start at 50.
In fact, you could earn enough points for the Mosaic Bible during nap time this way:

Use referral code from LifeAsMom.com to sign up (3 minutes) 25 pts
Sticker survey (2 minutes) 10 pts
Share the latest news (1 minute) 10 pts
Share on social media (10 minutes) 50 pts
Review Tyndale products (assuming you've already read a few) (40 minutes) 50 pts
Join the birthday club (1 minute) 15 pts
Join the focus group (2 minute) 25 pts
E-book Extra survey (3 minute) 20 pts
Bible survey (10 minutes) 15 pts
Ask an Author! "survey" (2 minutes) 5 pts
Invite 3 friends (5 minutes) 20 pts
There have been many Christmases in my adult life when there really wasn't money to buy Christmas gifts. I had a lot more time than money, though. This rewards program fits that scenario to a T.
You'll need to order by December 12th to get it by Christmas, so start earning those points!
Unwrapping the Greatest Gift Giveaway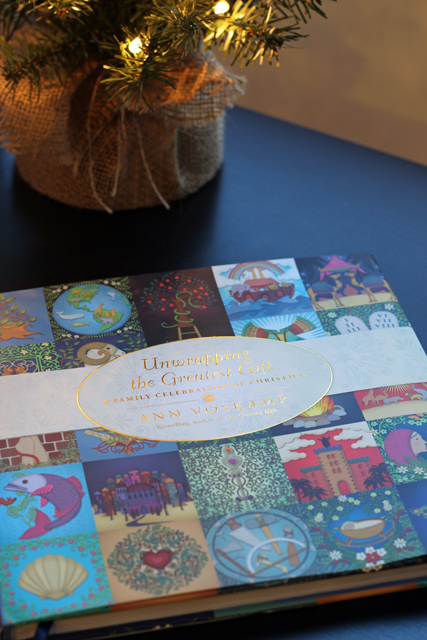 This week, Tyndale is offering one Life as MOM reader a copy of Ann Voskamp's Unwrapping the Greatest Gift: A Family Celebration of Christmas. This Advent devotional is a great addition to your holiday traditions and an ideal way to help you and your kids filter all the voices that shout during the holiday season.
Styled on the Jesse Tree tradition, each day's reading addresses a different part of Jesus' genealogy and provides questions to chat with your kids about. Included in the book is a code to download Ann's free printable Jesse Tree ornaments as well as information on where to buy them already made.
We've done a modification of the Jesse Tree — we put the ornaments on our regular Christmas tree — for about 15 years now during Advent and it's been such a wonderful tradition to do with my kids. We do it in the morning as part of school, so FishPapa does miss out, but it always leads to great discussions. I'm looking forward to including this new book in our countdown to Christmas this year.
I'm excited for one of you to have this book as well!
To Enter
Simply complete the information on this form. Please know that the information is only being gathered for the purposes of mailing you your prize in the event that you are chosen as the winner. This information will not be sold, traded, or given away.
This promotion is open until Wednesday, November 26, 2014 at 8 pm PST and is limited to US residents, 18 years or older. Friends and family of Jessica Fisher and Life as MOM are ineligible for entry. The winner will be chosen randomly. This post will be updated with the beginning of the winner's email address. The prize for this promotion is provided by and shipped by Tyndale House and/or its representatives. Jessica Fisher and Life as MOM will not be held responsible for unclaimed or undelivered prizes.
Disclosure: I have been compensated for my time spent writing. All opinions are my own. This post does include affiliate and referral links. I do receive some small perk if you use those links.
Side note: I have a special affinity for Tyndale House. Not only do they produce great products, but they're also named after Bible translator and Christian martyr, William Tyndale. FishBoy10's middle name is Tyndale. 😉