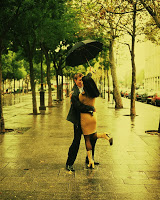 The other night my youngest brother watched the five older children while FishPapa and I went out for dinner, baby in tow. It was the first time we'd been on "a date" since we sat alone in my hospital room two months ago. A lot has happened since then.
It was great to share a meal and some conversation without getting up from the table five times, having to call someone back to the table, or wash dishes. To top it off we headed to Barnes and Noble for free coffee drinks. (Thanks for the heads' up, Heather!) It brought back memories of the "old days" when we would go to the local bookstore on our dates.
But, date night is sometimes hard to swing when you've got kids. There's much to prepare in securing a babysitter, feeding kids and said babysitter, and arranging activities for the evening, not to mention paying for your outing. But, alone time with your main squeeze is important! It's so good to get out of the house and remember how your family started in the first place.
In addition to the free coffees, here are some other frugal date ideas:
** Dinner at Costco – really. A buck fifty buys you a hot dog and a drink. Split a frozen yogurt for dessert and you will be totally satisfied. Then go window shopping.
** Walk on the beach, around the lake, through the park. Make sure you hold hands.
** Send the kids away and have an at-home date night.
** Go out for coffee and dessert. This can be significantly less expensive than dinner.
** Have a breakfast date. Restaurant prices are generally lower first thing in the morning.
** Rent a movie, put the kids to bed, and set up the movie screen in your room. Make a plate of yummy movie snacks and settle in for a good flick.
Got another idea? Please share it in the comments!