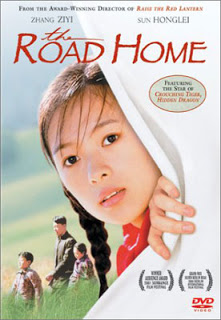 Recently Julie recommended that I watch the movie, The Road Home. Since FishPapa and I are always looking for good flicks, we reserved it on the handy-dandy online library network and got a chance to watch it last week. We have had several at-home movie dates over the last few months. After the kids are in bed, he sets up a laptop on a stand near our bed. We can cuddle, eat chocolate, and watch a movie together. And since I am the sappy one of the family, I keep a box of kleenex nearby.
The Road Home is a very well crafted movie. I have to admit that halfway through, I was a little skeptical. But, be patient. All the loose ends come together in a beautiful, tear-jerking way at the end. I'm not going to tell you anything except that it's a love story. 'Nuf said.
Oh and since it was filmed in China, in Chinese, there are subtitles. If you have watched a few foreign films, you know it's something you get used to. We put the subtitles on even watching an English movie since the sound on DVDs is often hit and miss. Or maybe we're just hard of hearing.
Either way, it's a good movie to check out.