How You Can Still Be Romantic Even When You've Got Kids
We are a participant in the Amazon Services LLC Associates Program, an affiliate advertising program designed to provide a means for us to earn fees by linking to Amazon.com and affiliated sites. We participate in other affiliate programs as well. For more details, please see our disclosure policy.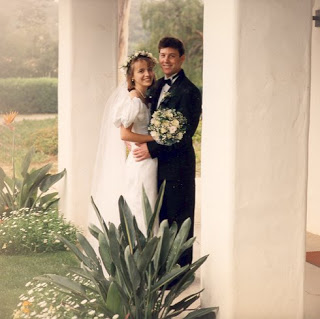 Today my sweet hubby and I celebrate fourteen years of marriage. Back when this picture was taken, we didn't have a clue what was in store for us: five, no, six, children, three miscarriages, a cross-country move, job changes, financial ups and financial downs, back trouble, and lots and lots of coupons. God has been so faithful to us. I am pleased to report that though we have had our rough spots, we love one another more today than we did back when we were young and skinny. Praise God!
Currently, we are in the process of pursuing a debt-free lifestyle. In order to do that, we will NOT be
flying to Hawaii today
eating out at the most expensive restaurant in town
buying ourselves a Hi-Definition, flat screen TV
But, we are going to celebrate. As I was thinking about what I could do with what I have on hand, I came up with the following suggestions as to how to remember the romance, but to do it on the cheap. Keep them in mind when your next anniversary rolls around.
Recreate the wedding supper. We had a fantastic reception al fresco in one of the most beautiful places in the world, Santa Barbara, CA. That may sound really froo-froo, but it was a casual affair on our landlords' property. The tables were set picnic-style with red-checked cloths and raffia-tied napkins (all the rage, then). The atmosphere was one to make everyone feel relaxed. We had a delicious barbecue of chicken and tri-tip, potato salad, pasta salad, caesar salad and rolls. The cake was chocolate with raspberries and a whipped cream-cream cheese frosting. While tri-tip is not currently in the budget, chicken is. And I happen to have enough ingredients to pull off the rest of the menu.
Walk down Memory Lane. We'll probably pull out our pictures tonight and show our kids how young and skinny we were. They will probably be most surprised at how short their uncles were then at ages 15 and 8.
Visit your old stomping grounds. For us, we'll save that for our next trip West. But, if you're in the vicinity of where you met and married, take a walk where you used to ramble. Either with the kids or without, it will be a fun time of reminiscing.
Dine at a favorite restaurant. Since we've always been pretty frugal, some of our favorites are actually in the budget. We're going to forego it tonight, but in the past we have dined at McPhee's Grill, the Palace Cafe, Cheesecake Factory, and Backyard Burger.
Recreate one of your first dates. We went to see Article 99, a movie with Ray Liotta and Kiefer Sutherland. If memory serves me right, it was a really bad movie. So, we won't be doing that tonight. But, we might laugh about it.
Put the kids to bed early and spend time together – no tv, no computer, no phone calls. This doesn't cost a thing and is the best part of our romance.